"BBYO is Amazing!  BBYO is where I found all my best friends!"
Those are the words of past members of Yachad BBYO.
BBYO is a fun Jewish teen organization that celebrates Judaism (cultural and spiritual) and fun at the same time!
There are so many chapters all around the world and one of them is right here in Eastern CT!! 
Welcome to our senior youth group, Yachad BBYO. We're a Jewish youth group, ages 14-18, devoted to having fun and improving our community!
For more information on Yachad BBYO or Temple Enanu-El's Junior Youth Group contact advisor Marcia Reinhard at mreinhard@jfec.com
•••
Our chapter is called Yachad and brings teens from all around our area; from the shoreline as far south as Old Saybrook and Old Lyme to East Lyme, Waterford, Groton, Mystic, Stonington and inland areas like Norwich, Montville, Uncasville, as far as Mansfield Center, Westerly, RI and all places in between. We try to have events all around CT to make it easy for everyone to come! Our Yachad Chapter of BBYO and our BBYO Connecticut Valley Region itself, are wonderful places to make life-long friendships and, of course, experience the best and coolest bonding events!  We have regional events where we meet and become friends with teens from all over the state and local chapter events which help us become a very tight-knit, friendly and inclusive group of teens. If you are interested in coming to an event, becoming a member of our chapter,or if you are a parent who would like more information, please contact our Youth Director, Marcia Reinhard, at mreinhard@jfec.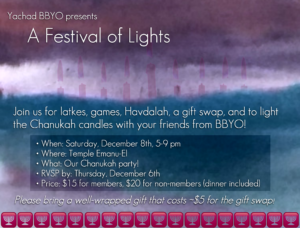 Here are some flyers from some of our past events!