The Sisterhood is an auxiliary group interested in sharing their talents and energy, while connecting with other women in the Temple Emanu-El community through intellectual, spiritual and social activities.

Upcoming Sisterhood Events
Dear Sisterhood friends,
Our Sisterhood board held our planning meeting and are excited to get all our information out to you. We are still facing challenging times and have taken this into account when planning our programs.  For now, events will take place either outdoors (without food) or on Zoom or even as a hybrid model.

Many thanks to Gail Weber and Cecile Feldman (who baked delicious rugelach and cookies) for hosting a special membership event on September 12th, the opening day of in-person Religious School.

Our yearly Membership Drive is ongoing and we hope to surpass our membership of last year of over hundred members. It is never too late to send in your dues of $36.00 to Caren Linden or to give it directly to us at an upcoming Sisterhood event.
Sisterhood is open to all women of Temple Emanu-El as well as all Jewish women in southeastern Connecticut.  Feel free to invite your friends.  We are always looking for new members.  

Book Club
Our second Sisterhood Book Club will be held on Monday, November 8 at 7:00pm. Chairperson Cecile Feldman will guide us through a stimulating discussion of "Marjorie Morningstar" by Herman Wouk. This American classic was published in 1955 and was made into a film starring Gene Kelly and Natalie Wood in 1958. The heroine of the novel, Marjorie Morgenstern, is nineteen years old when she leaves New York to accept the job of her dreams- working in a summer-stock company for Noel Airman, its talented and charismatic director. "Marjorie Morningstar" has been called "the first Jewish novel that was popular and successful, not merely to a Jewish audience but to a general one".

4K Safe Walk 2021 to support Safe Futures 
Join the Temple Emanu-El Sisterhood Team for this walk on Sunday, Oct. 17th at 9:00am at Waterford High School.Pre-registration is suggested. Go to the Safe Futures website: https://safefuturesct.org/
Go to Register, then Join a Team (Temple Emanu-El Sisterhood).  Anyone can join our team! We look forward to seeing you and supporting such an important organization.  For those of you who are not familiar with Save Futures, they support victims of domestic violence, sexual assault, stalking and trafficking in southeastern CT.  Sisterhood has participated in this walk for the past 3 years.  Mark your calendars and be part of this fun and worthwhile event!


Cooking Class
On Thursday, November 18 at 7:00pm, Sisterhood will host a cooking class on Zoom to prepare all of us to make a delicious pie for Thanksgiving, and very tasty and easy to make latkes for Chanukah. Check your emails for the Zoom Link and more information in early November.


Some other programs we discussed were a drawing class on Zoom, as well as a program in person at Smith Acres in Niantic in the spring. If you have any suggestions or special talents, please let us know.  It's always fun to try something new.

Mahjong Cards – Watch for upcoming information to pre-order your 2022 MahJongg cards through TE Sisterhood. By ordering through Sisterhood, we receive a donation from the NMJL. Thank you to Iris for her dedication to the Sisterhood and our love of all things mahjong! 
Mah Jongg Tournament – Check back for future dates when we can resume these great tournaments.
Temple Emanu-El Gift Shop
Great News! The merchandise is finally back in the Temple Emanu-El Gift Shop. Now you can either shop in person on Sunday mornings, or, you can shop online through the Gift Shop website which contains over 300 items, and is always being updated with new merchandise. Check it out by clicking on the Judaica Shop link on our Temple homepage or CLICK HERE TO VISIT OUR ONLINE SHOP! 
Thank you to Susan Hausmann for running the Gift Shop for many years. She will be stepping down from that position, so please contact her at judaicashop@tewaterford.org if interested in helping to run our shop.


WRJ Programs – Merrill and Gail went on a 4 day virtual bus tour with this tour guide, Shari Robins. It was "Israel Through the 5 Senses". Shari did an amazing presentation incorporating songs, dances, tours inside museums and marketplaces. So we wanted you to know about this program since we are all looking for interesting things to do. Consider signing up for the WRJ emails. They have put together some wonderful programs.
The Sisterhood board wishes all of you a Happy, Healthy and Peaceful New Year!
Your Sisterhood Board – 2021-2022
Co-Presidents                      Gail Weber & Barbara Senges
Membership                        Barbara Senges
Programming                      Merrill Mazzella
Treasurer                              Caren Linden
Book Club                             Cecile Feldman
Gift Shop                               Susan Hausmann
Secretary                               Eileen Shapiro
Religious School Liaison   Barbara Senges
Publicity                                Sue Fornara

Fun Recent Activies
Our Kick-off Membership event was a really fun Trivia Event! Everyone loved playing this on Zoom over the past year so Barbara Senges, our co-president and Membership chair, put together really great questions! We did a hybrid model for this event on Sunday, September 19 with many women joining us outside at McCook Point Park, and others joining us on Zoom. Everyone had a great time!
On Friday, August 20th, the Sisterhood led the Shabbat service.  Thank you to Eileen Shapiro and Barbara Senges for creating a special summer service for us participate in and enjoy.
More then 20 women gathered for our End-of-the-Year Social at McCook's Point Park!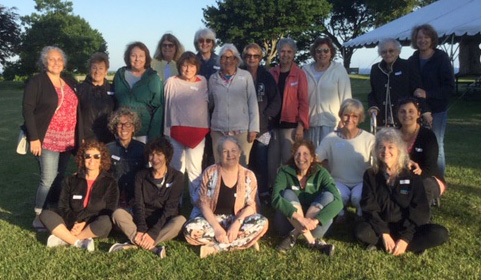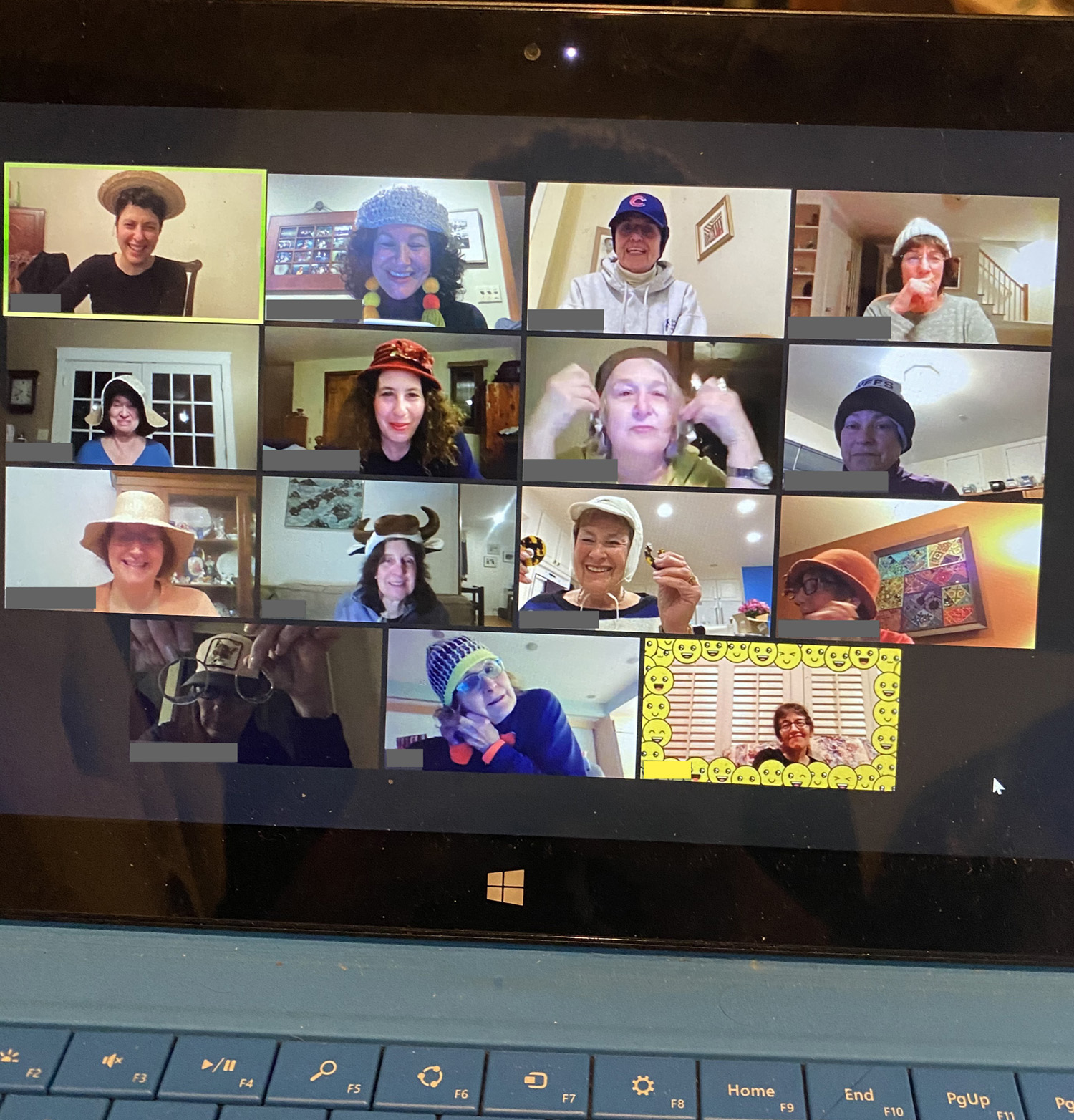 Sisterhood Scavenger Hunt –On Thursday, March 18, at 7 PM we had a scavenger hunt on Zoom. From the comfort of our homes, we were challenged to find items and bring them back to our computers for all to see. Prizes were awarded and fun was had by all! 
Challah Class – Thanks to thank Merrill Mazzella for organizing and demonstrating how to bake a beautiful round challah (actually she showed us how to bake 4 different styles!).  If you missed it, you can watch it on the TE "YouTube" channel. The link is under Recent Programs on the Temple Emanu-El Homepage. 
Trivia Nights – We have had two trivia nights so far! Aside from exercising our brains, the format of breakout rooms lends itself to fun social interaction. These evenings are a lot of fun, so keep an eye out for future Trivia Nights!
Our Kick-off event, the Bean-to-Bar Chocolate Tasting, was popular with 65 participants enjoying delicious craft chocolates together via Zoom. Thank you to Merrill for organizing our fabulous event, hosted by Estelle Tracy, a chocolate sommelier!! It was a wonderful, delicious, fun evening!!
On Tuesday, September 22, 2020 we met for a "Sisterhood Virtual Happy Hour & Membership Drive" on Zoom. It was great to have a chance to say hi to old friends and meet some new ones.
Mazel Tov, Cécile!!! The Sisterhood would like to congratulate our fellow Sisterhood board member, Cecile Feldman, on being awarded the temple honor of the Howard Ilson Award for being an outstanding member of the congregation, and giving years of service to the temple.  
Safe Futures – Thank you to all who participated in, and donated to, the Safe Futures Annual 4K Safe Walk which this year was done virtually by participants.  A small group of Sisterhood friends got together to walk the Niantic Boardwalk and even more walked on other days in different places.  All totaled, on our Sisterhood sign up page, we raised $366 for Safe Futures!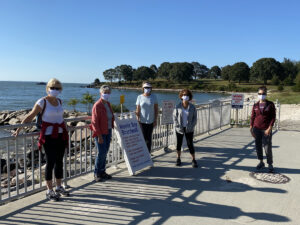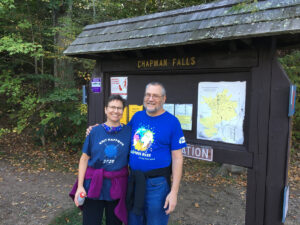 Sisterhood Activities
Operating the Judaica Shop
Membership Kick-off and Year End Dinners
Apples and Honey for Rosh Hashanah after the Children's Service
Sending Chanukiot to all college students whose families are members of the Temple
Providing Oneg for Rosh Hashanah
Sponsoring dessert for one night of the Jewish Film festival
A dedicated Friday night Sisterhood Service
Mah Jongg Tournaments
Movie Nights
Sisterhood Dinner Club
Other Past Activities
Family hikes
Yoga classes
Zumba classes
Afternoon Tea
Trivia night
Book Club
Related Pages:
Get Involved
Brotherhood
Social Action News