The Sisterhood is an auxiliary group interested in sharing their talents and energy, while connecting with other women in the Temple Emanu-El community through intellectual, spiritual and social activities.

Upcoming Sisterhood Events
Dear Sisterhood Friends,
Our Sisterhood board held our planning meeting and we are excited to get all our information out to you.  We held an outdoor Cocktail Party for our planning and invited an additional fifteen women to provide input. We also conducted a survey to determine the best format and time for programs, as well as the types of programs our women want. With the COVID situation improved from last year, Sisterhood will strive to hold in-person events that allow those not comfortable with in-person to Zoom in. We will also attempt to have programs in the afternoons during the week, during Religious School on Wednesday afternoons, on Sunday mornings, Sunday afternoons, and of course, continue with our weekday evening programs. During the bad weather winter months (December, January, February), we will hold our popular ZOOM events.
Sisterhood has begun our year with a very busy September. A big thanks to all of you who helped assemble and deliver High Holiday bags for the Friendly Visitor program on September 19 and to all who wrote postcards to underserved voters in Georgia at the "Get Out the Vote Event" on September 21. A special thanks to Jen Zettler and Sue Fornara for organizing the Rosh Hashanah Oneg on the evening of September 25 and to all of our members who contributed and helped with set-up and clean-up.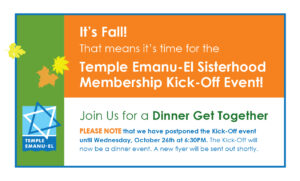 Our Kick-off Membership Event has been POSTPONED. SAVE THE DATE – OCTOBER 26 at 6:30 pm.
Keep an eye on your emails for more information. This event is complimentary to all Sisterhood members. Annual dues are $36.00 and can be mailed to Caren Linden, our treasurer, in advance or brought to the event. Sisterhood is open to all women of Temple Emanu-El as well as all Jewish women in southeastern Connecticut. Feel free to invite your friends. We are always looking for new members.  

Please see below for book club information, as well other upcoming Sisterhood events. Some other programs we are discussing are a trip to a Broadway musical in New York City in the spring, a speaker(s) on how the Jewish faith regards abortion, trips to local museums, potluck lunches at the synagogue, yoga or exercise classes, Pickleball, craft or game nights, another program in person at Smith Acres in Niantic in the spring and of course, our very popular Trivia Nights.
If you have any suggestions or special talents, please let us know. It's always fun to try something new. The Sisterhood board wishes all of you a Happy, Healthy and Peaceful New Year!
Barbara Senges
President of Sisterhood
Our Slate of Officers for 2022-2023:
President:                              Barbara Senges
Treasurer:                              Caren Linden
Programs:                              Merrill Mazzella
Corresponding Secretary:   Gail Schor
Recording Secretary:           Eileen Shapiro
Book Club:                             Cecile Feldman
Judaica Shop:                        Lisa DeVito Marcus
Publicity:                                Sue Fornara


Our Sisterhood Book Club continues to be popular and is chaired by Cecile Feldman who always provides us with interesting background information and very lively discussions. Our first book club date is Tuesday, October 11 at 7:00pm at Cecile's home in East Lyme or on Zoom. You will also be able to Zoom in!  The book is called "Suite Française" by Irene Nemirovsky, a love story between a French villager and a German soldier during the occupation of France in 1940. The books are set aside for us at the Waterford Library.
The second Book Club Event will be held on Tuesday, December 13 at 7:00pm at the synagogue. This will be a joint event with Hadassah. The book for December is "The Deadly Scrolls" by Ellen Frankel. This is the first in a series of Jerusalem Mysteries. It has been described as "a Jewish DaVinci Code!


Mahjongg Tournament – Thursday, October 20th.
Please CLICK HERE for the registration form, or view it under Happenings on the Temple Home Page. Full Day tournament!  $50!  Registration deadline is October 13th, or when we run out of space!
Reservations have been coming in at a brisk pace for our October 20th MahJongg Tournament. If you haven't secured a seat at the tournament, we'd encourage you not to delay. For newer players who want to learn what the tournament is like, you can sign up for our Relaxed/Novice tables and you'll get a taste of the tournament without the pressure and all the fun. 
We've received an awesome assortment of gifts that will be raffled off, including a new mahjongg set, restaurant gift certificates, jewelry, wine baskets, a "bouquet" of luxury yarns, skin care basket, more wine, home care products, salon certificates, and did I mention more wine. Raffle tickets are $5 each and 3 for $10.  You don't have to be present to win, so you can purchase tickets even if you aren't going to be at the tournament. Contact Iris at ifreegang@aol.com or 860.460.3081 and she'll fix you up with some raffle tickets. 

And if you have a hankering to help with food service, we would love to offer you a slot in our crew for food prep, serving, or cleanup on Wednesday, October 19th and/or Thursday, October 20th. Let us know when you can assist and Robbin Alpert will fit you in. 
If you have questions or would like more information, don't hesitate email me at ifreegang@aol.com! 
Thanks for your support!!!
Iris Freeman


On Sunday, October 23 at 9:00AM, Sisterhood will again be participating in the Safe Futures 4K Safe Walk at Waterford High School. Check your emails, the Temple Calendar, and the Sisterhood page on Temple website for more information as we get closer.

Weekly Walking Group
Our Walking Group continues to walk every Wednesday and Thursday at 10:00am at the Hole in Wall Entrance of the Niantic Boardwalk. If you have a suggestion for a good location to walk on the Groton side of the Thames River, please let me know.

Temple Emanu-El Gift Shop
 CLICK HERE TO VISIT OUR ONLINE JUDAICA SHOP! 
Anne Cohn and Lisa Marcus are excited to be your new gift shop keepers this coming year. You can contact them to visit the gift shop, and you can always shop using our judaica shop website. It is easy and convenient. You can access it by clicking the link above or by going to the Temple website homepage (tewaterford.org) and clicking the image for the Judaica Shop. Please contact Lisa Marcus at Judaicashop@tewaterford.org for orders or questions. If there is something special you would like us to stock for the fall and winter holiday season, now is the time to ask. Please do not hesitate to reach out to us.
The Sisterhood would like to say thank you to Susan Hausmann for running the Gift Shop for many years! 

Mazel Tov, Janine! The Sisterhood would like to congratulate Janine Sitko on being awarded the temple honor of the Howard Ilson Award for being an outstanding member of the congregation, and giving years of service to the temple.
 Our yearly Membership Drive is ongoing and we hope to surpass our membership of last year of over hundred members. It is never too late to send in your dues of $36.00 to Caren Linden or to give it directly to us at an upcoming Sisterhood event.
Sisterhood is open to all women of Temple Emanu-El as well as all Jewish women in southeastern Connecticut.  Feel free to invite your friends.  We are always looking for new members.  
Do you have any ideas for a Sisterhood program? Maybe you have a skill you would like to share. We are always looking for suggestions! Some other programs we discussed were a drawing class on Zoom, as well as a program in person at Smith Acres in Niantic in the spring. If you have any suggestions or special talents, please let us know.  It's always fun to try something new.
WRJ Programs
Last year, we mentioned all of the on-line programming available through our umbrella organization, WRJ. If you check their website, wrj.org, you will see their calendar filled with speakers, tours, etc.  Hope you can take advantage of some of their programs.
We had fun doing Herb Planters at Smith's Acres!
We closed out our March activities with an outdoor event in the Greenhouse at Smith's Acres where we made Spring Herb Planters. Sisterhood provided Pizza and Drinks at the event.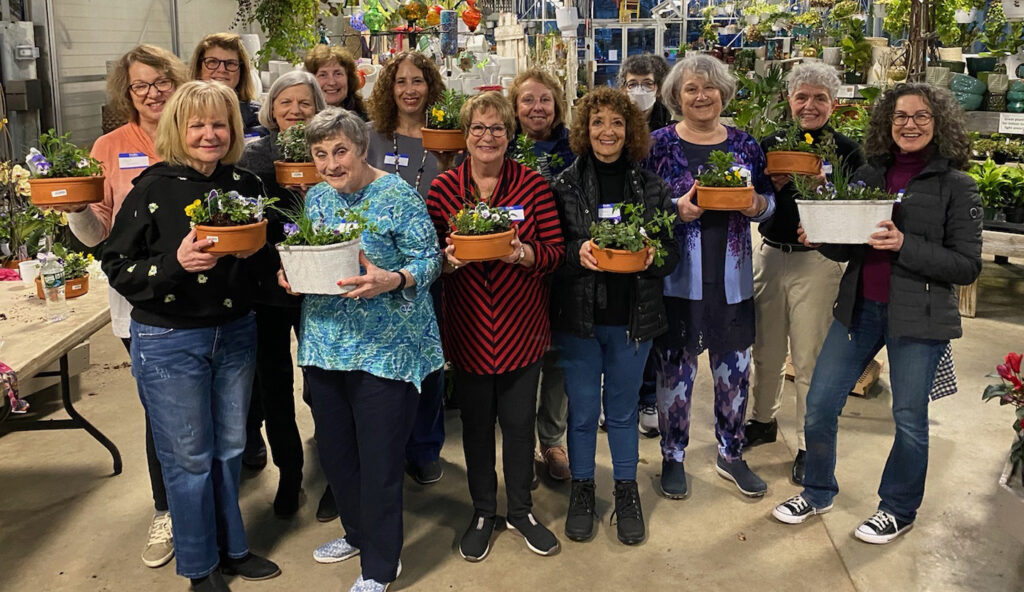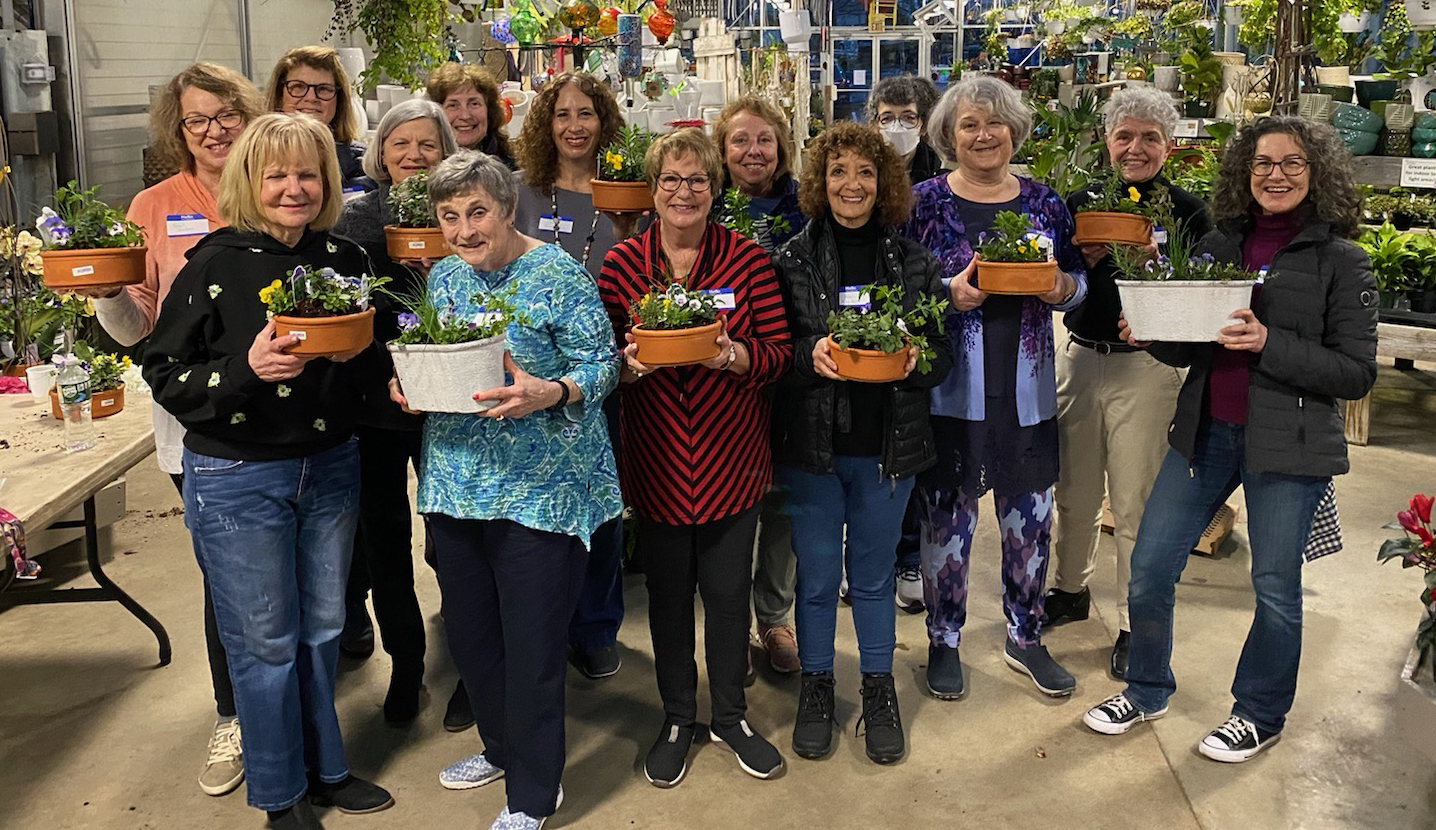 Friendly Visitor Program Passover Bags
Eileen Shapiro is the coordinator of the Friendly Visitor Program for JFEC. Sisterhood, along with JFEC, distributed Chanukah bags & Purim bags to residents in our community who are in nursing homes and independent living facilities. Eileen has expanded the JFEC Friendly Visitor Program to include other local synagogues. Sisterhood members again assembled and helped deliver bags for Passover to Jewish residents at care facilities and independent facilities. This is a mitzvah project which is appreciated by so many people. Thanks to all who helped!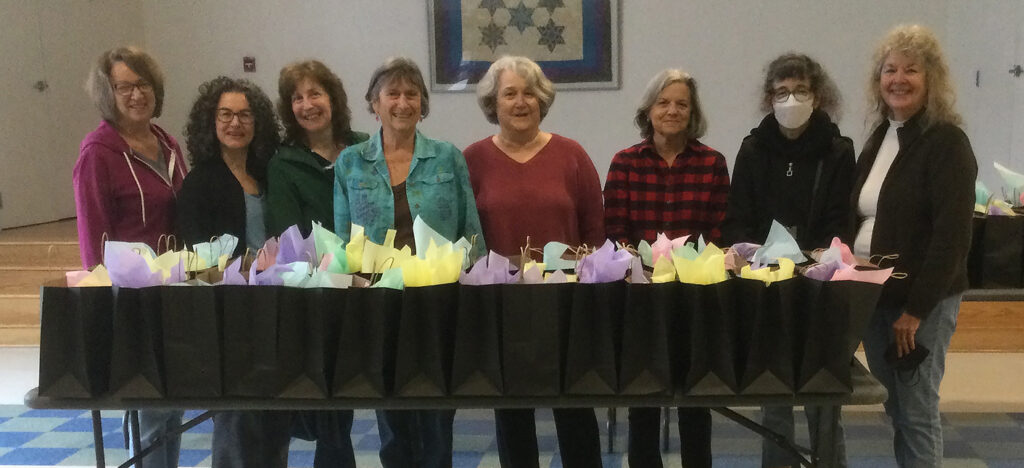 MORE FUN RECENT ACTIVITIES
Cooking Class
We had a hybrid event with our own Cecile Feldman, Merrill Mazzella, and Flossie Betten, who showed us how to bake/make the best sweet potato pie and potato latkes and pie! Yum and thank you!!
Check it out on our YouTube channel: https://www.youtube.com/watch?v=jP2PmKh-O4I
We had a Joint Program with Hadassah in March, and speakers from Safe Futures spoke to us about the important work being done in our community and Camp Hope.  
4K Safe Walk 2021 to support Safe Futures
Thank you to all who joined the Temple Emanu-El Sisterhood Team for this walk on Sunday, Oct. 17th at 9:00am at Waterford High School!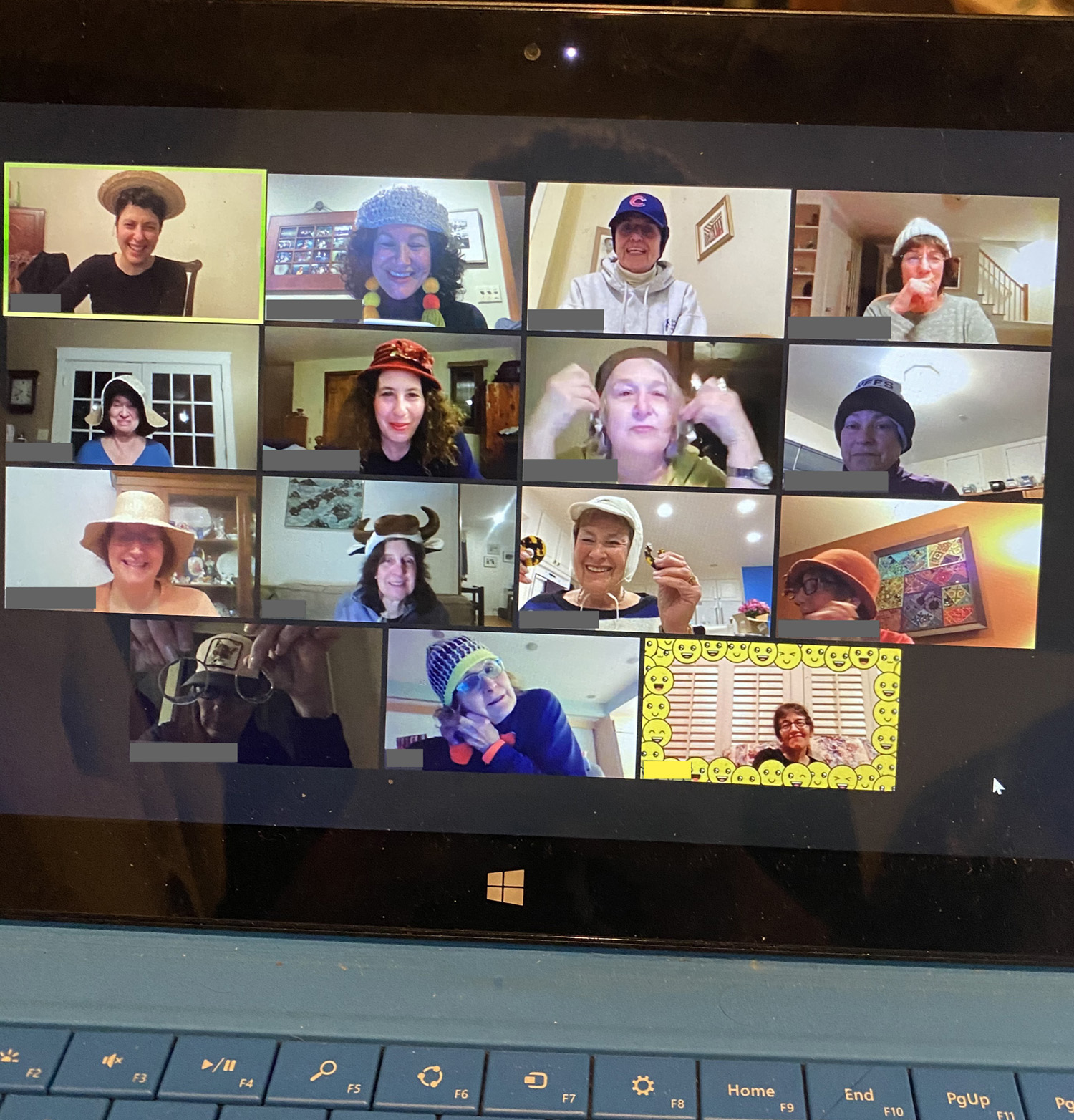 Trivia Nights – We had another great trivia night recently after two others that were so much fun! Aside from exercising our brains, the format of breakout rooms lends itself to fun social interaction. These evenings are a lot of fun, so keep an eye out for future Trivia Nights! Thanks to Barbara Senges for coming up with great questions!
Sisterhood Scavenger Hunt –Since this event in March of 2021 was so much fun, we did another Scavenger Hunt on Zoom on January 25, 2022. From the comfort of our homes, we were challenged to find items and bring them back to our computers for all to see. (Photo from March Zoom event) 
Challah Class – Thanks to thank Merrill Mazzella for organizing and demonstrating how to bake a beautiful round challah (actually she showed us how to bake 4 different styles!).  If you missed it, you can watch it on the TE "YouTube" channel. The link is under Recent Programs on the Temple Emanu-El Homepage. 
Our Kick-off Membership event was a really fun Trivia Event! Everyone loved playing this on Zoom over the past year so Barbara Senges, our co-president and Membership chair, put together really great questions! We did a hybrid model for this event on Sunday, September 19 with many women joining us outside at McCook Point Park, and others joining us on Zoom. Everyone had a great time!
The Sisterhood led the Shabbat Service on Friday, August 20th. Thank you to Eileen Shapiro and Barbara Senges for creating a special summer service for us participate in and enjoy.
For our End-of-the-Year Social at McCook's Point Park, more then 20 women got together!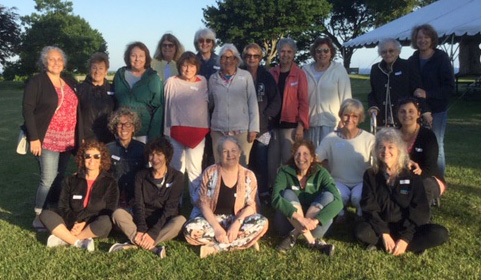 Our Kick-off event in 2020, the Bean-to-Bar Chocolate Tasting, was popular with 65 participants enjoying delicious craft chocolates together via Zoom. Thank you to Merrill for organizing our fabulous event, hosted by Estelle Tracy, a chocolate sommelier!! It was a wonderful, delicious, fun evening!!
On Tuesday, September 22, 2020 we met for a "Sisterhood Virtual Happy Hour & Membership Drive" on Zoom. It was great to have a chance to say hi to old friends and meet some new ones.  
Safe Futures – Thank you to all who participated in, and donated to, the Safe Futures 2020 Annual 4K Safe Walk which this year was done virtually by participants.  A small group of Sisterhood friends got together to walk the Niantic Boardwalk and even more walked on other days in different places.  All totaled, on our Sisterhood sign up page, we raised $366 for Safe Futures!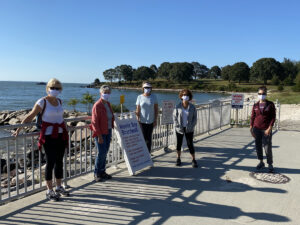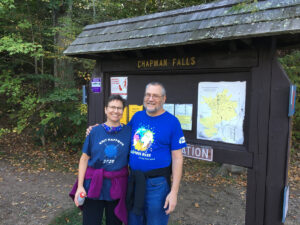 Sisterhood Activities
Operating the Judaica Shop
Membership Kick-off and Year End Dinners
Apples and Honey for Rosh Hashanah after the Children's Service
Sending Chanukiot to all college students whose families are members of the Temple
Providing Oneg for Rosh Hashanah
Sponsoring dessert for one night of the Jewish Film festival
A dedicated Friday night Sisterhood Service
Mah Jongg Tournaments
Movie Nights
Sisterhood Dinner Club
Other Past Activities
Family hikes
Yoga classes
Zumba classes
Afternoon Tea
Trivia night
Book Club
Related Pages:
Get Involved
Brotherhood
Social Action News