The Sisterhood is an auxiliary group interested in sharing their talents and energy, while connecting with other women in the Temple Emanu-El community through intellectual, spiritual and social activities.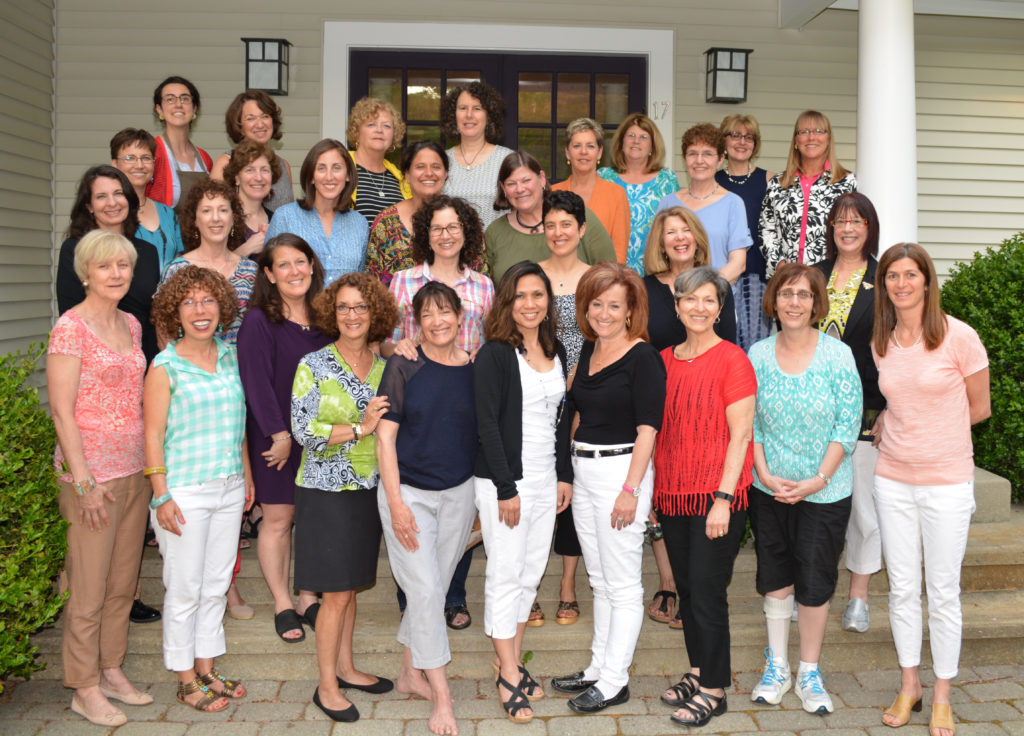 Upcoming Sisterhood Events
The Temple Emanu-El Sisterhood would like to wish everyone a happy, healthy and peaceful New Year. 
As we move into fall, Sisterhood continues to offer events to help keep us all connected.  If you have any ideas for future programs, please email us.  We are always looking for fresh ideas.
On Tuesday, September 22, 2020 at 7:00 p.m. we will meet for a "Sisterhood Virtual Happy Hour & Membership Drive" on Zoom.  Join us for a fun & social evening as we all get reacquainted and meet potential new members! Don't miss this chance to say hi to old friends before the High Holidays begin.  Invite your friends to meet up with us online!  After our introductions, we'll be letting you in on a super sweet secret… our official Kick-off event, slated for late October.
CLICK HERE FOR THE ZOOM INVITE LINK TO  JOIN OUR HAPPY HOUR!

Sisterhood Kick-off Event – You definitely want to save this date!  Wednesday, October 28th at 7:00 p.m. – The entire Sisterhood board is excited about our Kick-off Event this year. I can't say too much about this as it is a surprise which will be announced at the end of our Virtual Happy Hour & Membership Drive, but I can tell you, you will love it.  In lieu of a meal together, we'll be meeting up on Zoom for a super sweet time.  Looking forward to "seeing" you then!
Safe Futures Annual 4K Safe Walk – Virtual Edition! • Oct 1 – 4, 2020.
Last year, Sisterhood helped support Safe Future with their walk at the Crystal Mall.  This year, Safe Futures is holding a virtual edition – 4K Your Way Oct 1 – 4, 2020. This coincides with National Domestic Violence Awareness Month on Oct 1st.  Please ask friends, family and colleagues to sponsor us.  We hope you can join the Temple Emanu-El Sisterhood team and support this worthwhile cause. Take a photo of yourself while walking and we'll share those pictures at our Kickoff event on Oct 28th! Click here to go to their registration page for easy sign up!

Sisterhood Volunteering – Voter Engagement Information – Being that our social lives have been reduced this year, you may notice that you have more free time to fill.  If so, please consider joining Gail and I in volunteering with the RAC (Religious Action Center of Reform Judaism), The URJ's Social Justice organization, by participating in the postcard campaign (everything is non-partisan). The RAC is partnering with the Center for Common Ground, Reclaim our Vote Campaign.  It's very easy to do as the RAC has put together kits that are mailed to you with everything you need except stamps and pens for writing. You can order your own kit here: RAC.org/OrderKit.  (It took me just 10 minutes to sign up for my kit and view a short video.)
Beyond postcarding, there are other ways to get involved with the RAC. You can sign up at the RAC to be involved in the 2020 Civic Engagement Campaign.  When you sign up, you will get emails about the things you choose to be involved in – postcards, phone banking, or a bunch of other ways.  This is all part of what the RAC is calling the Every Voice, Every Vote campaign.  There will be a Zoom training every Wednesday to explain different aspects of the Every Voice, Every Vote Campaign.  You can sign up to join these webinars here…https://rac.org/rac-civic-engagement-campaign-2020-1
Lastly, an important way to participate in this year's election is to VOTE!!!  The RAC believes that if people are engaged, change will happen for the better.  One of the challenges that the RAC and the URJ have laid out is for congregations to aim to be a 100% voting congregation. Rabbi Ekstrand hopes that TE can aim for 100% voter participation. Again, that's non-partisan. It's about being engaged.  

Book Club – Our next book club is on Wed., Oct 21st at 7:00pm.  Cecile Feldman leads a lively discussion and the women have enjoyed participating.  The next book is The Island of Sea Women by Lisa See.  The Waterford Library has 5 copies available to check out, including a large print edition and 2 audio books on cd.  Please call the Waterford Library 860-444-5805 for more information.  Additionally, Amazon sells The Island of Sea Women in paperback for $9.45 + shipping.  The link for this virtual event will be sent out the week of the meeting.
Challah Class – Thanks to thank Merrill Mazzella for organizing and demonstrating how to bake a beautiful round challah (actually she showed us how to bake 4 different styles!).  If you missed it, you can watch it on the TE "YouTube" channel.
Movie Night – Please check back for information on our next movie night once we resume our Movie Nights!  
Dinner Club – We hope to be able to get together for dinner soon!
Mah Jongg Tournament
Check back for future dates when we can resume these great tournaments.
Sisterhood will be sponsoring the oneg on the second Friday of each month once services start again at the Temple. 
If you have any suggestions for future programs let Gail or Merrill know!

Temple Emanu-El Judaica Shop

We are excited to announce that a great sampling of our inventory is now available online to browse. Since the Temple is currently closed, curbside pickup is available for your convenience. We only accept cash or checks for payment therefore, there are no online payment options. Please email Judaicashop@tewaterford.org with item number and description to complete your order. CLICK HERE to visit our Judaica Shop online!
Unfortunately, at the present time the gift shop will no longer accept Venmo as payment. We could not fulfill some of Venmo's requirements. Hopefully we can come up with another solution. As always, you can reach us at Judaicashop@tewaterford.org.
The Temple Emanu-El Gift Shop offers jewelry, tallit, kiddush cups, candlesticks, special holiday items, and more! Special orders are possible. The gift shop is closed due to the Coronavirus. Special arrangements can be made by contacting judaicashop@tewaterford.org or 860-625.6618.
You will find our gift shop prices beat Amazon's significantly most of the time. The case in the atrium shows a price comparison on many items which are sold at the gift shop. As of now, the gift shop only accepts cash or check. Please consider donating handled paper bags or reusable bags. Plastic bags will no longer be provided. 
The gift shop is run by Temple Emanu-El Sisterhood, and contributes to the temple in many ways. Some examples are donating to the general fund, gifts for confirmation students, and funding the Rosh Hashanah Oneg and Yom Kippur Break-the-Fast. The gift shop also helps to support religious school holiday celebrations and donates to the kitchen fund. The gift shop in particular donates (along with the Brotherhood) the candlesticks and kiddish cups for our Bar and Bat Mitzvah students. We give our college students electric menorahs to use in their dorms, and also provide dreidels and gelt to our religious school students. The money you spend at the gift shop truly stays within our community. 
If anyone would like to offer assistance it would be greatly appreciated. This is not very time consuming. It could be helping with merchandise placement, purchasing or something else you think you could offer.
Sisterhood Activities
Operating the Judaica Shop
Membership Kick-off and Year End Dinners
Apples and Honey for Rosh Hashanah after the Children's Service
Sending Chanukiot to all college students whose families are members of the Temple
Providing Oneg for Rosh Hashanah
Sponsoring dessert for one night of the Jewish Film festival
A dedicated Friday night Sisterhood Service
Mah Jongg Tournaments
Movie Nights
Sisterhood Dinner Club
Other Past Activities
Family hikes
Yoga classes
Zumba classes
Afternoon Tea
Trivia night
Book Club
Related Pages:
Get Involved
Brotherhood
Social Action News