The Sisterhood is an auxiliary group interested in sharing their talents and energy, while connecting with other women in the Temple Emanu-El community through intellectual, spiritual and social activities.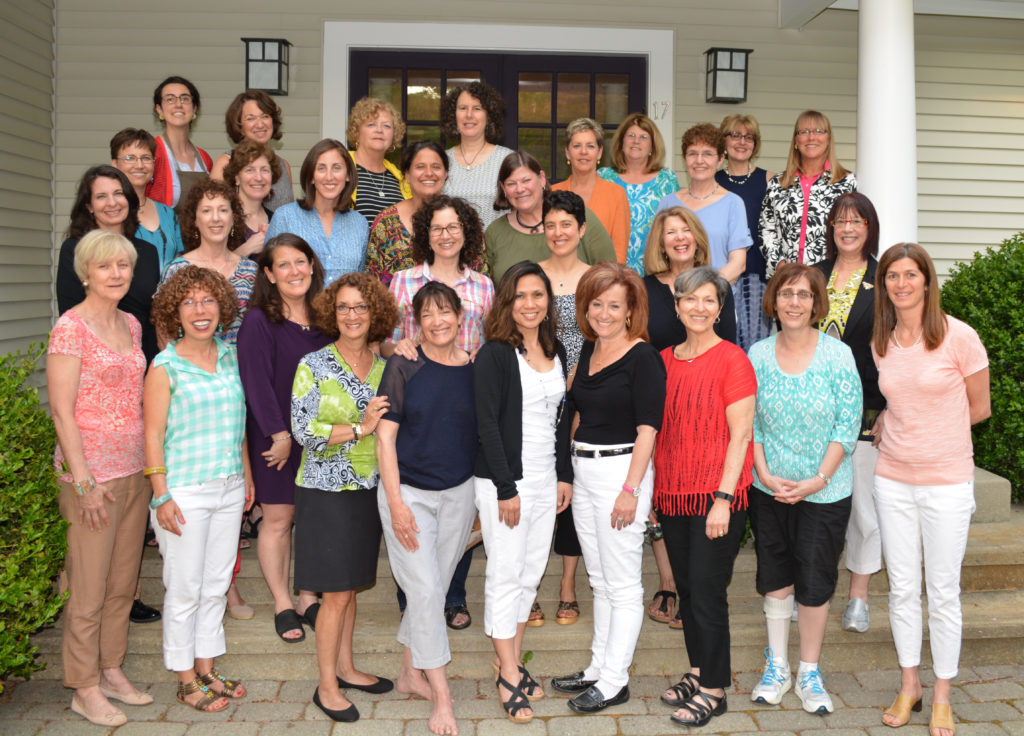 Upcoming Sisterhood Events
Movie Night – Wednesday, March 6.  
at Niantic Cinema, Movie and time TBD
Dinner Club – Thursday, March 28, 6:30 p.m
We will meet at Panera in Waterford as part of the Fund-raising Committee's event (from 4:00 P.M. – 8:00 P.M.) benefitting the temple's Essential Fund. We'll meet at 6:30 for dinner. Temple Emanu-El will receive 20% of the proceeds from those supporting the Temple, but You need to show the flyer at Panera by either clicking here for a copy of the flyer to print it or show it on your phone,  or bring the flyer from the Temple Bulletin.  
Sisterhood-Sponsored Shabbat Onegs
Sisterhood will be sponsoring the 2nd Friday night of each month beginning on March 8 (then on April 12, May 10, June 14).  An email will be sent out in advance for sign-ups.  Thank you all in advance for helping to make our onegs warm, welcoming and delicious!
Joint Book Club with Hadassah 
Please save the date of Tuesday, April 2nd at 7:00 p.m. to join us for the annual Sisterhood & Hadassah Joint Book Club Discussion. We will be reading Dara Horn's "Eternal Life: A Novel".  Otis Library in Norwich will have several copies starting at the end of February. Interlibrary loan can be used from other libraries then as well.  Additionally, the book can be purchased through Amazon (kindle, audiobook, hardcover or paperback). Please plan to join us and begin reading… 
Drunken Palette Night

 •  Tuesday, April 9  •  7 – 9 p.m.


A night to let your inner artist come out! Sisterhood and Hadassah ladies will meet in New London (259 State Street) for wine, snacks, and painting. Sure to be a fun night!

CLICK HERE for more information.
Our

Spring Mah Jongg Tournament

is scheduled for Monday, June 3
.
We look forward to seeing our seasoned and newer players! This will be fun for all! Watch for registration forms soon! Ifreegang@aol.com
Temple Emanu-El Judaica Shop
I need your help! I get comments from congregants that the gift shop does not carry merchandise that they want. I always ask what do they want? Now I am asking the congregation for suggestions on products that they want to see in the gift shop. Please visit me on Sunday mornings or e-mail me. Passover starts on April 19. Let me know if there items that you would like to see.The gift shop also carries a wide variety of cards. There are cards for almost any occasion and most cost $1. You can always reach me at judaicashop@tewaterford.orgor 860-625-6618. Thanks, Susan
Kickoff Event

Follow-Up

Our kick-off dinner was fantastic, with almost 60 women getting together for a great dinner and camaraderie at Cafe Sol! 
Sisterhood Activities
Operating the Judaica Shop
Membership Kick-off and Year End Dinners
Apples and Honey for Rosh Hashanah after the Children's Service
Sending Chanukiot to all college students whose families are members of the Temple
Providing Oneg for Rosh Hashanah
Sponsoring dessert for one night of the Jewish Film festival
A dedicated Friday night Sisterhood Service
Mah Jongg Tournaments
Movie Nights
Sisterhood Dinner Club
Other Past Activities
Family hikes
Yoga classes
Zumba classes
Afternoon Tea
Trivia night
Book Club
Related Pages:
Get Involved
Brotherhood
Social Action News