The Sisterhood is an auxiliary group interested in sharing their talents and energy, while connecting with other women in the Temple Emanu-El community through intellectual, spiritual and social activities.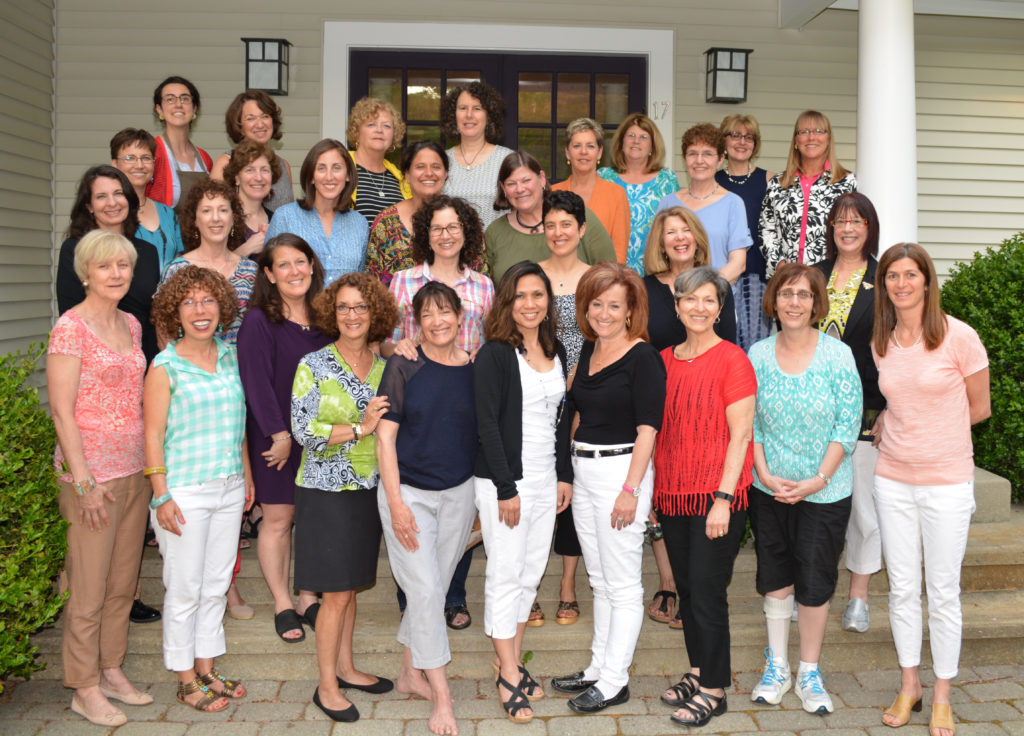 Upcoming Sisterhood Events

Dinner Club will meet every other month this year and next dinner will be in February. Stay tuned.

Our next Book Club will be held on Wed March 4th at the home of Michelle Snitkin.  The Marriage of Opposites by Alice Hoffman will be discussed.  It will be available at the Waterford Library.
Movie Night will resume in February. 
Sisterhood will be sponsoring the oneg on the second Friday of each month. Whenever you can help, we really appreciate it. Merrill will be sending out reminders.
ORER NOW: MAH JONGG CARDS FOR 2020 – Deadline January 24
Thank you so much for purchasing your Mah Jongg cards through me over the years. I just received our donation from the NMJL for last year's card order for $580!!  Once again, by purchasing your Mah Jongg cards through me, on behalf of Temple EmanuEl Sisterhood, we receive a charitable donation. The cost to you is exactly the same, but NMJL gives a portion back for charitable collectors. What has really helped make this fund-raiser worthwhile is the number of you who have also ordered cards for friends, mahj clubs, and relatives. I feel like I have my own little pyramid scheme going here.
Good news: the price will be the same for 2020. That's $8 for standard size and $9 for large size. The rest is the same, so if you know it all, you can stop reading about now. I am collecting orders with payment (preferably checks rather than cash; sorry – no credit cards) and I have to place one large order in late January, 2020. After my cut-off date from NMJL, I can not order additional cards. 
DEADLINE FOR YOUR ORDERS/PAYMENT TO ME is JANUARY 24th, 2020. The cards are mailed directly from the NMJL, so feel free to order cards for fellow mahj players anywhere in the country.
So what do I need from you?
Name, address if new or different from last year, email, number & size of cards ordered, and your check, payable to T.E.Sisterhood. If you are ordering for your group, I can send the cards to each member or to one member, whichever you prefer. And if you are a snow bird, use the address where you want the card mailed in late March. Mail your orders to TEMPLE EMANU-EL SISTERHOOD, Attn: Iris,  P.O. Box 288, WATERFORD, CT 06385
If you have any questions, feel free to contact me at ifreegang@aol.com, or phone at 860-460-3081. Thank you!
Iris Freeman
Temple Emanu-El Judaica Shop 

The Temple Emanu-El Gift Shop now has regular hours during religious school.
I would like to introduce the gift shop to anyone who is not familiar with what we do. The gift shop is run by Temple Emanu-El Sisterhood, and contributes to the temple in many ways. Some examples are donating to the general fund, gifts for confirmation students, and funding the Rosh Hashanah Oneg and Yom Kippur Break-the-Fast. The gift shop also helps to support religious school holiday celebrations and donates to the kitchen fund. The gift shop in particular donates (along with the Brotherhood) the candlesticks and kiddish cups for our Bar and Bat Mitzvah students. We give our college students electric menorahs to use in their dorms, and also provide dreidels and gelt to our religious school students. The money you spend at the gift shop truly stays within our community. 
We also have a tremendous variety of tallit and we can help order kippot for your important events. If anyone would like to offer assistance it would be greatly appreciated. This is not very time consuming. It could be helping with merchandise placement, purchasing or something else you think you could offer.
As of now, the gift shop only accepts cash or check. Please consider donating handled paper bags or reusable bags. Plastic bags will no longer be provided. The gift shop is open on Sunday mornings 9:30-12. Special arrangements can be made by contacting judaicashop@tewaterford.org or 860-625.6618.
We had a wonderful Sisterhood Year End Dinner Party on Thursday, June 27th. Thank you to Caren Linden for hosting.
Sisterhood Activities
Operating the Judaica Shop
Membership Kick-off and Year End Dinners
Apples and Honey for Rosh Hashanah after the Children's Service
Sending Chanukiot to all college students whose families are members of the Temple
Providing Oneg for Rosh Hashanah
Sponsoring dessert for one night of the Jewish Film festival
A dedicated Friday night Sisterhood Service
Mah Jongg Tournaments
Movie Nights
Sisterhood Dinner Club
Other Past Activities
Family hikes
Yoga classes
Zumba classes
Afternoon Tea
Trivia night
Book Club
Related Pages:
Get Involved
Brotherhood
Social Action News