The Sisterhood is an auxiliary group interested in sharing their talents and energy, while connecting with other women in the Temple Emanu-El community through intellectual, spiritual and social activities.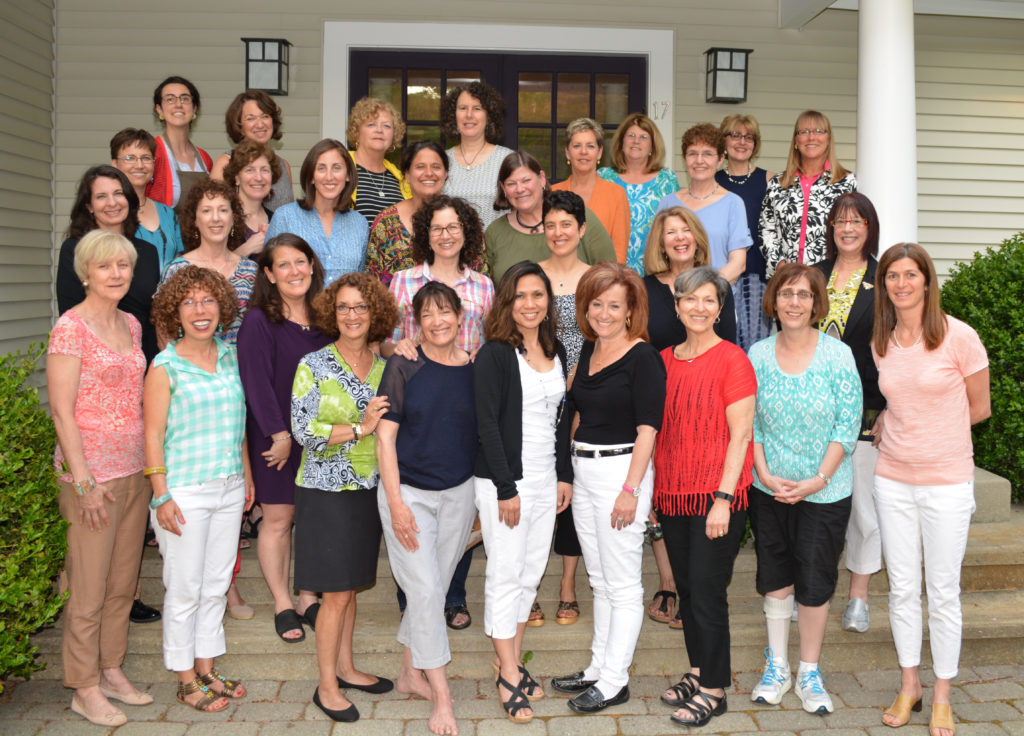 Upcoming Sisterhood Events
The High Holidays are behind us, and we're busy planning more virtual events for the Sisterhood.  Please join us for the programs below, and if you have any suggestions for additional programs, please let us know!  
Movie Night – Reinvented! On Tuesday, Nov. 10th, from 7:00-9:00 p.m. via Zoom, we'll be viewing "The Keeper." This movie was released in 2018 (in both English & German) and was directed by Marcus H. Rosenmuller.  It's the true story of Manchester City goalkeeping legend Bert Trautmann, who rose from being a German POW to being a hero for British football fans.  It's also a love story between a young English woman and a German POW who together overcome prejudice, public hostility and personal tragedy.
*Then on Thursday, Nov. 12th (note date change) from 7-8:00 p.m., all are invited to participate in a discussion of the movie.  Zoom links will be emailed.
Sisterhood Volunteering – Voter Engagement Information – Being that our social lives have been reduced this year, you may notice that you have more free time to fill.  If so, please consider joining Gail and I in volunteering with the RAC (Religious Action Center of Reform Judaism), The URJ's Social Justice organization, by participating in the postcard campaign (everything is non-partisan). The RAC is partnering with the Center for Common Ground, Reclaim our Vote Campaign.  It's very easy to do as the RAC has put together kits that are mailed to you with everything you need except stamps and pens for writing. You can order your own kit here: RAC.org/OrderKit.  (It took me just 10 minutes to sign up for my kit and view a short video.)
Beyond postcarding, there are other ways to get involved with the RAC. You can sign up at the RAC to be involved in the 2020 Civic Engagement Campaign.  When you sign up, you will get emails about the things you choose to be involved in – postcards, phone banking, or a bunch of other ways.  This is all part of what the RAC is calling the Every Voice, Every Vote campaign.  There will be a Zoom training every Wednesday to explain different aspects of the Every Voice, Every Vote Campaign.  You can sign up to join these webinars here…https://rac.org/rac-civic-engagement-campaign-2020-1
Lastly, an important way to participate in this year's election is to VOTE!!!  The RAC believes that if people are engaged, change will happen for the better.  One of the challenges that the RAC and the URJ have laid out is for congregations to aim to be a 100% voting congregation. Rabbi Ekstrand hopes that TE can aim for 100% voter participation. Again, that's non-partisan. It's about being engaged.  

Book Club – Monday, Dec. 7th at 7:00 p.m. – The Best Place on Earth, a collection of short stories by Ayelet Tsabari.  "These eleven spellbinding stories often focus on Israel's Mizrahi Jews, featuring mothers and children, soldiers and bohemians, lovers and best friends, all searching for their place in the world. Absorbing, tender, and sharply observed, The Best Place on Earthinfuses moments of sorrow with small moments of grace: a boy composes poetry in a bomb shelter, an old photo helps a girl make sense of her mother's rootless past. Tsabari's voice is gentle yet wise, illuminating the burdens of history, the strength of the heart, and our universal desire to belong." This book is available from Amazon (and Kindle). 
Gift Shop is now On Line! – There is a beautifully designed button on the front of the temple website which links to the gift shop website.  If you see something you'd like to purchase, just email Susan Hausmann to let her know which items you want to buy and she will meet with you to complete the transaction. Chanukah begins on December 10th!
Challah Class – Thanks to thank Merrill Mazzella for organizing and demonstrating how to bake a beautiful round challah (actually she showed us how to bake 4 different styles!).  If you missed it, you can watch it on the TE "YouTube" channel.
On Tuesday, September 22, 2020 we met for a "Sisterhood Virtual Happy Hour & Membership Drive" on Zoom. It was great to have a chance to say hi to old friends and meet some new ones.
Safe Futures – Thank you to all who participated in, and donated to, the Safe Futures Annual 4K Safe Walk which this year was done virtually by participants.  A small group of Sisterhood friends got together to walk the Niantic Boardwalk and even more walked on other days in different places.  All totaled, on our Sisterhood sign up page, we raised $366 for Safe Futures!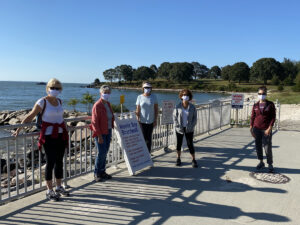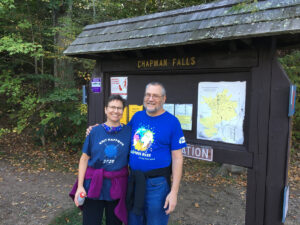 Mah Jongg Tournament
Check back for future dates when we can resume these great tournaments.

Temple Emanu-El Judaica Shop
As we turn the calendars to November I notices that the annual Hanukkah Fair was penciled in for November 22nd. Unfortunately, like everything else this year, the fair will not take place on that day. The good news is there will be more shopping opportunities with our new virtual website. There is a beautifully designed button on the front page of the Temple website which links directly to the gift shop website. 
All you have to do is email Susan at Judaicashop@tewaterford.org and let me know the item number and item and we will arrange a curbside pickup time at the temple. Appointments can be scheduled for Sunday mornings starting November 8th through December 6th. If you can't make it then, other arrangements are possible. Please remember that the gift shop only takes checks or cash.
Storage space has always been limited, therefore the majority of the Hanukkah merchandise has always been stored offsite and displayed on the shelves during the Hanukkah season. Please do not contact the temple office since the bulk of the merchandise is not in the gift shop. 
Sisterhood Activities
Operating the Judaica Shop
Membership Kick-off and Year End Dinners
Apples and Honey for Rosh Hashanah after the Children's Service
Sending Chanukiot to all college students whose families are members of the Temple
Providing Oneg for Rosh Hashanah
Sponsoring dessert for one night of the Jewish Film festival
A dedicated Friday night Sisterhood Service
Mah Jongg Tournaments
Movie Nights
Sisterhood Dinner Club
Other Past Activities
Family hikes
Yoga classes
Zumba classes
Afternoon Tea
Trivia night
Book Club
Related Pages:
Get Involved
Brotherhood
Social Action News