The Sisterhood is an auxiliary group interested in sharing their talents and energy, while connecting with other women in the Temple Emanu-El community through intellectual, spiritual and social activities.

Upcoming Sisterhood Events
Dear Sisterhood Friends,
Your Sisterhood Board continues to work very hard to plan activities that will interest and inspire all of you and bring us together to have fun! 
It is hard to believe that another year of Sisterhood is behind us. The Sisterhood Board and I are extremely proud of all we have accomplished this year. The year 2023 saw the continuation of our old favorites – Fall Kick-Off Event, Book Club, Walking Group, Smith's Acres Event, Trivia Nights, Virtual Scavenger Hunt, Safe Futures Walk, Friendly Visitors Program Holiday Bags, Dinner Night, Purim Shalach Manot Fundraiser, Judaica Shop Chanukah Fair, two Mahjongg tournaments, Sisterhood Service and the End-of-Year Dinner Event. We also added new programs, including in the area of social justice, and expanded our mitzvah projects!
We look forward to the 2023-24 year where we will continue with our great programs and projects, events, and gatherings! We look forward to seeing you at the Kick-Off Event in late October!
Please see below for book club information, as well other upcoming Sisterhood events.
Weekly Walking Group
Our Walking Group continues to walk (weather permitting) every Wednesday and Thursday at 10:00am at the Hole in Wall Entrance of the Niantic Boardwalk. We are planning to start walking at the Conn College Arboretum or elsewhere on the east side of the Thames River. If you are interested, please let Barbara know.


Movie/Show Group
we have started an "informal movie group" in the afternoon, attending movies at the Waterford and Mystic Cinemas. We plan on continuing these small group outings in 2023-24. The Niantic Cinema has been replaced by the Niantic Bay Playhouse which provides excellent amateur theater inexpensively. Premium seating is only $28.00. They are presenting "Steel Magnolias" from October 20 through November 4. Let me know if you would be interested. Also, we will be continuing with afternoon movie outings over the summer. Watch for Barbara's emails!

Sisterhood Book Club
Thank you to Cecile, who is stepping down from this position, for running the book club for so many years! We will reinstitute a process used in the past where each member of the Book Club recommends a favorite book (one that is already out in paperback) and leads the discussion that month. Book Club will be held on Zoom every six weeks. Cecile has volunteered to compile the calendar for the year and arrange with the Waterford Library to have the books available. If you have a book to suggest and are willing to facilitate the discussion, email Cecile or Barbara. 


Temple Emanu-El Gift Shop
Anne continues to expand offerings at the gift shop, and is available by appointment. You can contact her through email at Judaicashop@tewaterford.org, or contact the Temple Office. Come in and look at our wide array of Judaica items. No sales tax. Cheaper than retail stores. Profits go to support your congregation and community. Thanks to everyone for continuing to support our shop! 
You can always shop online using our Judaica Shop website. It is easy and convenient. You can access it by clicking the link below or by going to the Temple website homepage (tewaterford.org) and clicking the image for the Judaica Shop. Please contact Anne at Judaicashop@tewaterford.org for orders or questions. If there is something special you would like us to stock, please ask.
The Sisterhood would like to say thank you to Susan Hausmann for running the Gift Shop for many years, and to Lisa Marcus for helping Anne!  
CLICK HERE TO VISIT OUR ONLINE JUDAICA SHOP! 

Sisterhood Board
We would like to welcome two new members to our Board. Debra Wool is replacing Eileen Shapiro as Recording Secretary. Eileen Shapiro is our new Sisterhood Treasurer. Jennifer Zettler is joining the Board in a new position – Membership Chair. 
Our Officers:
President:                              Barbara Senges
Treasurer:                              Eileen Shapiro
Programs:                              Merrill Mazzella
Corresponding Secretary:  Gail Schor
Recording Secretary:           Debra Wool
Membership:                        Jennifer Zettler
Book Club:                             Cecile Feldman
Judaica Shop:                       Anne Cohn
Publicity:                                Sue Fornara
Religious School Liaison    Adrienne Parad
Social Justice                        Moira Ross

 Our yearly Membership Drive is ongoing and we hope to surpass our membership of last year of over hundred members. It is never too late to send in your dues of $36.00 to Caren Linden or to give it directly to us at an upcoming Sisterhood event. Sisterhood is open to all women of Temple Emanu-El as well as all Jewish women in southeastern Connecticut.  Feel free to invite your friends.  We are always looking for new members.  


Friendly Visitor Program Bags
Eileen Shapiro is the coordinator of the Friendly Visitor Program for JFEC. Sisterhood, along with JFEC, have helped assemble and distribute Chanukah, Purim, Passover & Rosh Hashana bags to residents in our community who are in nursing homes and independent living facilities. Eileen has expanded the JFEC Friendly Visitor Program to include other local synagogues. Thanks to all who helped assemble Purim and Passover Bags at the synagogue. Your help is greatly appreciated! 

Do you have any ideas for a Sisterhood program? Maybe you have a skill you would like to share. We are always looking for suggestions! Some other programs we discussed were a drawing class on Zoom, as well as a program in person at Smith Acres in Niantic in the spring. If you have any suggestions or special talents, please let us know.  It's always fun to try something new.

WRJ Programs
Last year, we mentioned all of the on-line programming available through our umbrella organization, WRJ. If you check their website, wrj.org, you will see their calendar filled with speakers, tours, etc.  Hope you can take advantage of some of their programs.

RECENT ACTIVITIES & EVENTS INCLUDE:
Mah Jongg Tournament
June 21, 2023 – We again hosted players from all across the northeast for a fun-filled day of Mahj. Thanks to all who participated and all who helped make this event happen. A special thank you to Iris and Robbin!
"Gypsy" at Goodspeed! On June 7, twenty-five Sisterhood members attended a production of "Gypsy" at the Goodspeed and enjoyed a delicious lunch at the Gelston House before the play.
End-of-Year Sisterhood Dinner
Thursday, May 18 at 6:00PM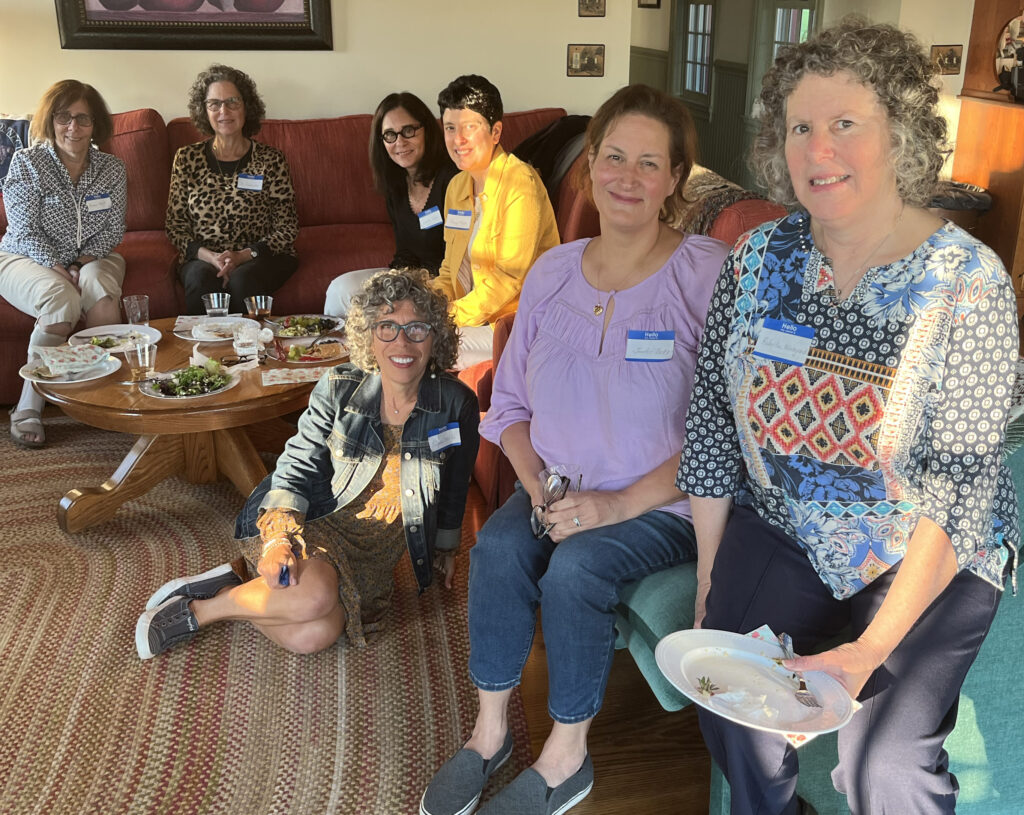 Planting at Safe Futures!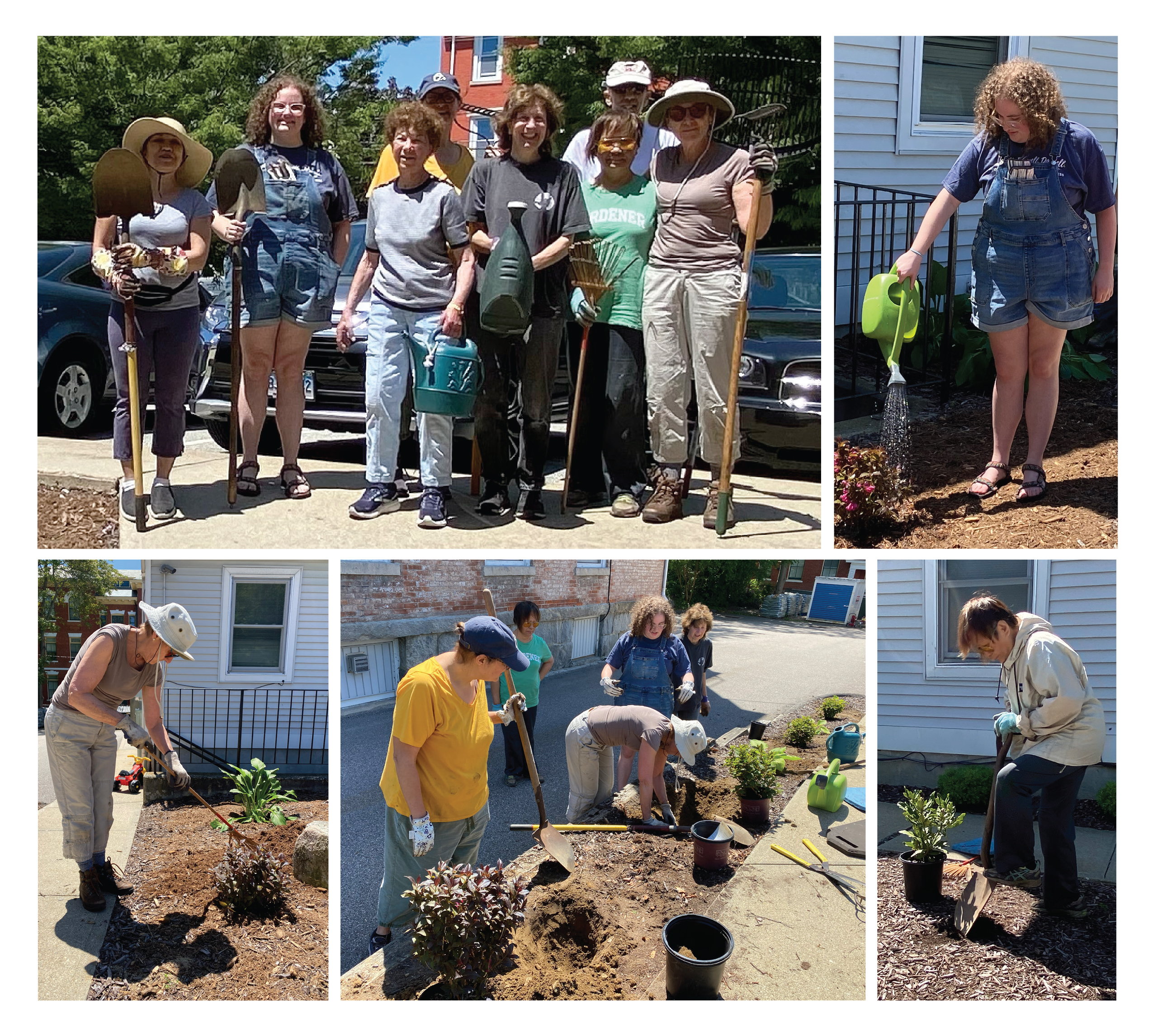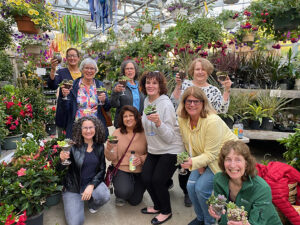 Smith's Acres Greenhouse
Tuesday, May 2 at 6:00PM – We made a Succulent Cocktail Glass and enjoyed pizza and wine! Thanks to Merrill for organizing. 


Sisterhood Service and Installation
Friday, May 12 at 6:30PM Please RSVP to Eileen or email Barbara at professeur38@me.com if you would like a part in the service (indicate Hebrew or English), or if you are willing to bring something for the Oneg.
Dinner Club
On Wednesday, March 15, Merrill Mazzella organized a successful Sisterhood Dinner Club at Olio's in Groton on March 15. The food was delicious, the company was great and we even celebrated Gail's birthday! A great time was had by all!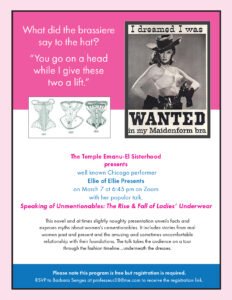 Well known Chicago performer Ellie of Ellie Presents met with us on Zoom on Tuesday, March 7 with her popular talk, Speaking of Unmentionables: The Rise & Fall of Ladies' Underwear. This novel and at times slightly naughty presentation unveilsed facts and exposes myths about women's unmentionables, and was a hit with a all who participated!

Trivia Night
We have had some great trivia nights! Our last Trivia Event for this year was on Zoom on Tuesday, February 7 at 7:00PM, and was a fun evening! Thanks to Barbara for coming up with great questions! Congratulations to the team of Jo Michelson, Karen Bloustine, Leslie Spees and Merrill Mazzella, who each won a gift certificate to the Judaica Shop as a reward for their victory at our February 7 Trivia Night.

Abortion and Women's Reproductive Rights Forum
We had a very exciting event on November 17 at Temple Emanu-El and on Zoom. Our Sisterhood Social Action Committee led by Moira Ross (who brought you the " Get Out the Vote Event" in September) organized a Panel Discussion on Abortion and Women's Reproductive Rights for that evening. Our speakers were Rabbi Marc Ekstrand, Dr. Adrienne Parad and Marcie Brensilver. Rabbi Marc spoke about the Reform Jewish viewpoint on abortion. Dr. Parad, MD FAAFP, presented an overview of abortion terminology and medical options and discussed real-life implications of the new restrictive abortion laws. Marcie Brensilver, nurse health educator and Planned Parenthood educator, talked about how restrictive abortion laws in other states are affecting CT, and shared personal stories about abortion before Roe v. Wade, and Sheila Horvitz talked about the legal and historical background. Thanks to all of our presenters! It was informative and inspiring. A special thanks to Moira Ross for planning and organizing this very informative event! Thanks also to Barbara Senges for all her help and to Nathaniel Rowe for acting as our Tech Guru.

Our Kick-off Membership Event was great! We had over 40 women and it was wonderful to be able to get together! Thank you to Lisa for hosting, and to Merrill Merrill Mazzella for organizing the wonderful dinner from Cafe Sol and assisting with the setting up and serving. A fun time was had by all! 



2023 Manjongg Cards have been ordered! The Mahjongg Tournament was on Thursday, October 20th. With over 15 years of mahjongg tournaments behind us, it was still just as exciting to see Temple EmanuEl filled with 84 players for our first post-pandemic day of mahjongg. We had folks from DE, NH, NY, MA in attendance for an event that was months in the planning. With 100 hungry people to feed (mahjongg works up an appetite!), our home-made breakfast and luncheon did not disappoint. We had a crew of 16 kitchen, set-up, and break-down helpers to whom we owe a debt of gratitude. A very HUGE THANK YOU to Iris Freeman and Robbin Alpert and all who assisted them in making the Mahjongg Tournament a great success. The Mahjongg Tournament is Sisterhood's major fundraiser and with the funds raised we will be able to contribute to the synagogue in a significant way.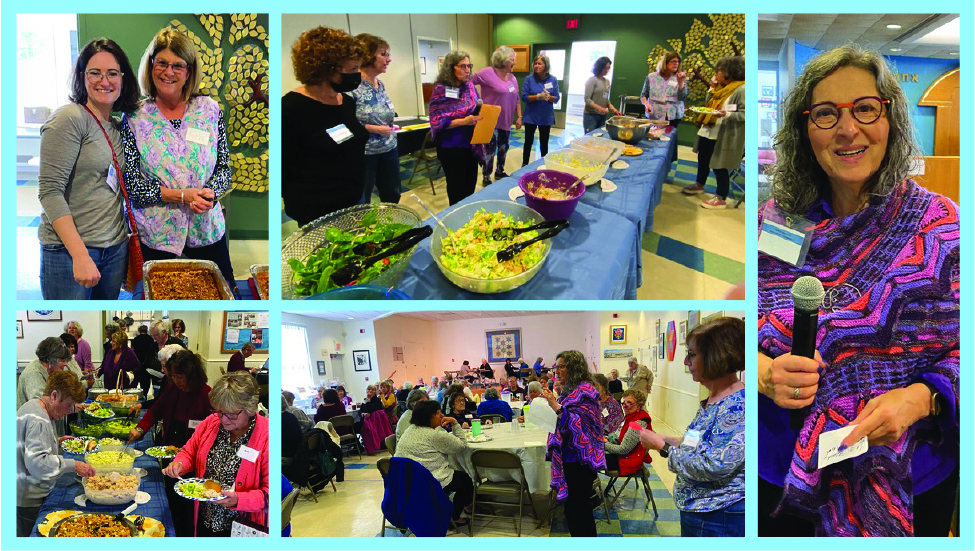 Sisterhood again participated in the Safe Futures 4K Safe Walk on Sunday, October 23 at Waterford High School. Moira reported that the Sisterhood raised $1,800 for Safe Futures – a big thank you to all of you who participated and contributed to this very worthy cause.

We had fun doing Herb Planters at Smith's Acres!
We closed out our March activities with an outdoor event in the Greenhouse at Smith's Acres where we made Spring Herb Planters. Sisterhood provided Pizza and Drinks at the event.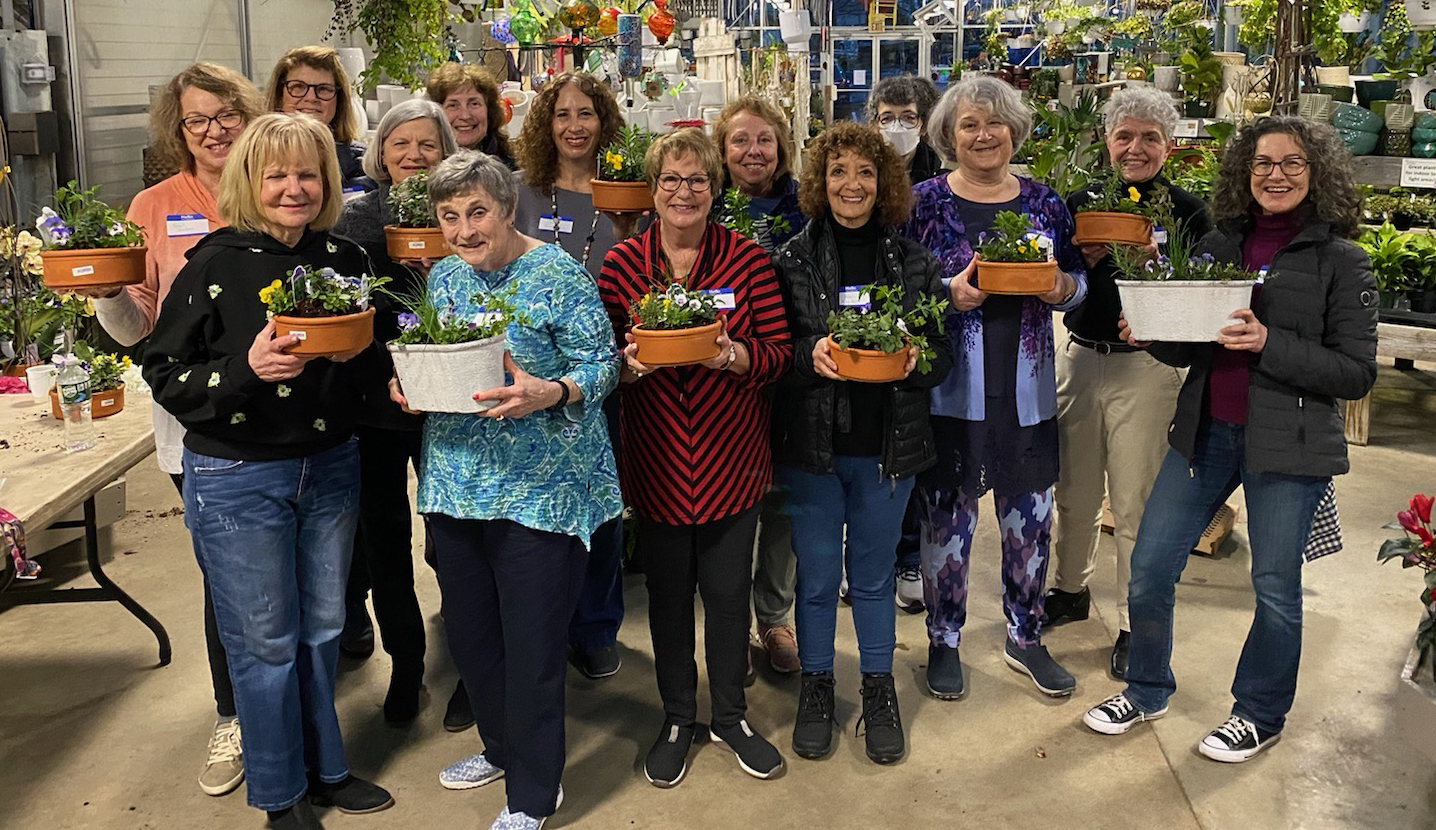 Related Pages:
Get Involved
Brotherhood
Social Action News