The Sisterhood is an auxiliary group interested in sharing their talents and energy, while connecting with other women in the Temple Emanu-El community through intellectual, spiritual and social activities.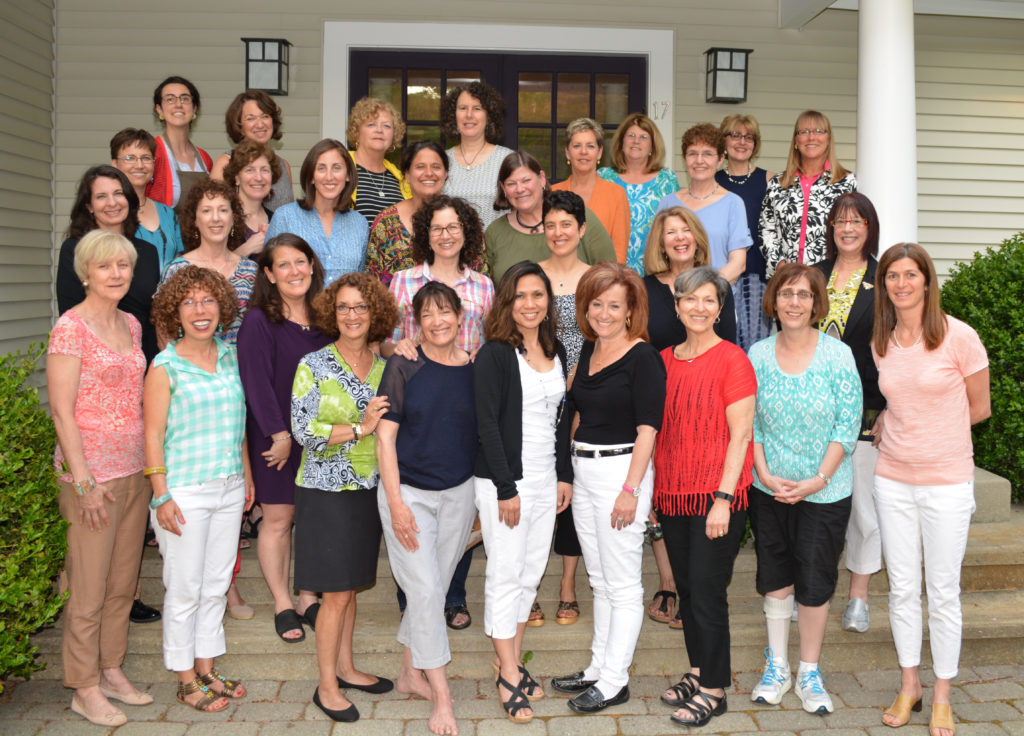 Upcoming Sisterhood Events
Sisterhood Shabbat Service –
Friday, July 17th at 7:30 p.m.via Zoom
Please let Merrill know if you'd like a part in the service, and specify Hebrew or English.
This month's book is 
Station Eleven
by Emily St.
 John Mandel.  This book has won many awards and our book discussions are always lively. Cecile Feldman brings background information and many great questions to our meetings.  The book is available now on Amazon for $11.29.  The Groton Library also has some copies for those who would like to borrow the book.
Get Together at Harkness Cancelled
We have to let you know that the get-together at Harkness Park that we had planned for July has been cancelled. Jo-el contacted us and explained that with the temple not being opened, no groups can hold an in-person event under the auspices of the temple. We would be opening ourselves up for a potential lawsuit and we just can't do it. It never crossed our minds when we planned the outing.  We thought an outdoor event would be fine, but for now that's just not the case.
Movie Night – Please check back for information on our next movie night once theaters open again!  
Dinner Club – We hope to be able to get together for dinner soon!

WRJ Speaker – Thursday, May 14 at 7:00 p.m. – Postponed 
We are fortunate to be welcoming a speaker from our WRJ Northeast District.  This presentation will be free and open to Sisterhood members.  More details about the event will follow once we can schedule this event.
Golda's Balcony Postponed until October
Sisterhood is thrilled to announce that we will still be hosting this dynamic one woman show, but are postponing it until Fall. Stay tuned for a new date. Golda's Balcony with Sandra Laub as Golda Meir is a 90 minute production which has received rave reviews.  Mark your calendars and come join us. There will be a pizza truck from Noon until 1:30! Check out the flyer for this event under Highlights on the Temple website homepage.
Spring Mah Jongg Tournament Cancelled
Due to the COVID-19 virus we are cancelling the Mah Jongg Tournament that was scheduled for May 27th.  
Sisterhood Shabbat Service –
Friday, May 8 @ 7:30 p.m. via Zoom

Thanks to all who participated in the Sisterhood Shabbatt Service. Along with Rabbi Ekstrand and Sherry Barnes, we co-lead a beautiful and meaniful  service on the Friday night prior to Mother's Day.
Sisterhood will be sponsoring the oneg on the second Friday of each month once services start again at the Temple. 
If you have any suggestions for future programs let Gail or Merrill know!
Temple Emanu-El Judaica Shop
The Temple Emanu-El Gift Shop offers jewelry, tallit, kiddush cups, candlesticks, special holiday items, and more! Special orders are possible. The gift shop is closed due to the Coronavirus. Special arrangements can be made by contacting judaicashop@tewaterford.org or 860-625.6618.
You will find our gift shop prices beat Amazon's significantly most of the time. The case in the atrium shows a price comparison on many items which are sold at the gift shop. As of now, the gift shop only accepts cash or check. Please consider donating handled paper bags or reusable bags. Plastic bags will no longer be provided. 
The gift shop is run by Temple Emanu-El Sisterhood, and contributes to the temple in many ways. Some examples are donating to the general fund, gifts for confirmation students, and funding the Rosh Hashanah Oneg and Yom Kippur Break-the-Fast. The gift shop also helps to support religious school holiday celebrations and donates to the kitchen fund. The gift shop in particular donates (along with the Brotherhood) the candlesticks and kiddish cups for our Bar and Bat Mitzvah students. We give our college students electric menorahs to use in their dorms, and also provide dreidels and gelt to our religious school students. The money you spend at the gift shop truly stays within our community. 
If anyone would like to offer assistance it would be greatly appreciated. This is not very time consuming. It could be helping with merchandise placement, purchasing or something else you think you could offer.
Sisterhood Activities
Operating the Judaica Shop
Membership Kick-off and Year End Dinners
Apples and Honey for Rosh Hashanah after the Children's Service
Sending Chanukiot to all college students whose families are members of the Temple
Providing Oneg for Rosh Hashanah
Sponsoring dessert for one night of the Jewish Film festival
A dedicated Friday night Sisterhood Service
Mah Jongg Tournaments
Movie Nights
Sisterhood Dinner Club
Other Past Activities
Family hikes
Yoga classes
Zumba classes
Afternoon Tea
Trivia night
Book Club
Related Pages:
Get Involved
Brotherhood
Social Action News