The Sisterhood is an auxiliary group interested in sharing their talents and energy, while connecting with other women in the Temple Emanu-El community through intellectual, spiritual and social activities.

Upcoming Sisterhood Events
Dear Sisterhood friends,
I am writing this article the morning after our End of Year Event.  After 15 months, the Sisterhood ladies were able to gather in person.  We had 21 members join us at McCook Park in Niantic on a beautiful evening overlooking the water.  There was no planned agenda as we knew everyone just wanted time to catch up with their friends while enjoying their picnic dinner.  As we looked around, all you saw were smiling faces.  It was wonderful and as we have all come to realize, it is the little things that have become so important. 
We had a busy year, despite the pandemic.  You just need to glance at our end of year report to see how many different activities Sisterhood has hosted (and we love doing it). Please see below for upcoming bookclub information.
We are happy to announce that we put out a call for a chairperson or persons for the very successful Mishlot Manot fundraiser and Barbara Wolfe and Janine Sitko volunteered to work together on it.  Thank you so much!
Many thanks to the wonderful group of ladies who serve on the Sisterhood board and give an amazing amount of their time and expertise to make things happen. My co-president Merrill Mazzella has been great fun to work with over the past 2 years. We were a great team and I loved working with you, Merrill.  She is stepping down as "co" but will remain on the board and concentrate on programming. Merrill and I would like to thank: Caren Linden, our treasurer; Sue Fornara, who designs all our flyers and updates the temple website; Susan Hausmann who runs the gift shop, and this year created a website so we could all continue to shop, Emily Lerner, our corresponding secretary; Cecile Feldman, who organizes our book club and Barbara Senges who helped with a million different things including organizing our successful Trivia Night and who stepped up to be co-president with me for the coming year. I'm looking forward to working with you, Barbara, just like we did over 15 years ago! And thanks to Eileen Shapiro, whose title is recording secretary and also organized our beautiful Shabbat service in May. A heartfelt thank you to all of you, from us, for your dedication and hard work.
It has been an unusual and difficult year filled with many challenges, but we got through it, and we are all looking forward to happier times that feel more like the norm.  Here's to a relaxing and fun summer.  If you have suggestions for a program, please let us know as we will be working on our calendar over the next few weeks. 
Gail Weber & Merrill Mazzella
Sisterhood Co-Presidents
Book Club – A special two-part event! 
On Wednesday, September 1st at 7:00 p.m., we will be discussing "Here All Along; Finding Meaning, Spirituality and a Deeper Connection to Life -in Judaism" by Sarah Hurwitz.  Ms. Hurwitz was a speech writer for Hillary Clinton and President Barack Obama.  At the age of 36, she enrolled in a beginner's class on Judaism and that is where her story begins. 
Then, on Thursday, September 23rd at 7:00 p.m., we will have the pleasure of hearing Sarah Hurwitz speak live on Zoom.  WRJ organized this event and we are one of 20 Sisterhoods in the region who are sponsors of it.  As a sponsor, all Temple Emanu-El Sisterhood members will be able to attend this speaker event for free.  Gail heard Ms. Hurwitz speak at the WRJ Fried Conference this spring and she was very engaging! 


Sisterhood SUMMER Shabbat Service  –On Friday, August 20th at 7:00 PM, the Sisterhood will lead the Shabbat service.  Please join us as Eileen Shapiro and Barbara Senges create a special summer service for us to take part in. English and Hebrew parts are available. 
A huge thank you to Eileen Shapiro for coordinating our annual Sisterhood Shabbat service. which was held on May 7th.  She selected beautiful readings and made our service very special.


WRJ Programs – Merrill and Gail went on a 4 day virtual bus tour with this tour guide, Shari Robins. It was "Israel Through the 5 Senses". Shari did an amazing presentation incorporating songs, dances, tours inside museums and marketplaces. So we wanted you to know about this program since we are all looking for interesting things to do. Consider signing up for the WRJ emails. They have put together some wonderful programs.

Mahjong Cards – Another successful fundraiser, the annual sale of mahjong cards run by Iris Freeman, netted the Sisterhood $635! Thank you to Iris for her dedication to the Sisterhood and our love of all things mahjong! 
Mah Jongg Tournament – Check back for future dates when we can resume these great tournaments.
Temple Emanu-El Gift Shop Online! – During the Summer the gift shop does not have regular hours, but you can always shop through the website. It is easy and convenient. Browse our selection of jewelry, tallit, candlesticks, candles, gift ideas and more. The Gift Shop website contains over 300 items, and is always being updated with new merchandise. Check it out by clicking on the Judaica Shop link on our Temple homepage or CLICK HERE TO VISIT OUR ONLINE SHOP! (Thank you to Susan Hausmann for running the Gift Shop through a website she created which makes it easy to shop from home.) 


Mazel Tov, Cécile!!! The Sisterhood would like to congratulate our fellow Sisterhood board member, Cecile Feldman, on being awarded the temple honor of the Howard Ilson Award for being an outstanding member of the congregation, and giving years of service to the temple.  


Fun Recent Activies
More then 20 women gathered for our End-of-the-Year Social at McCook's Point Park!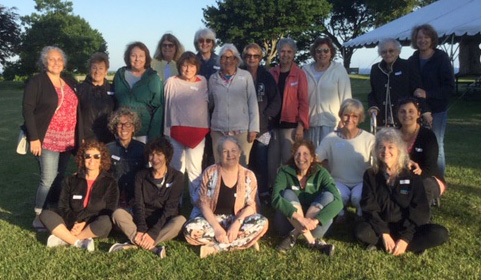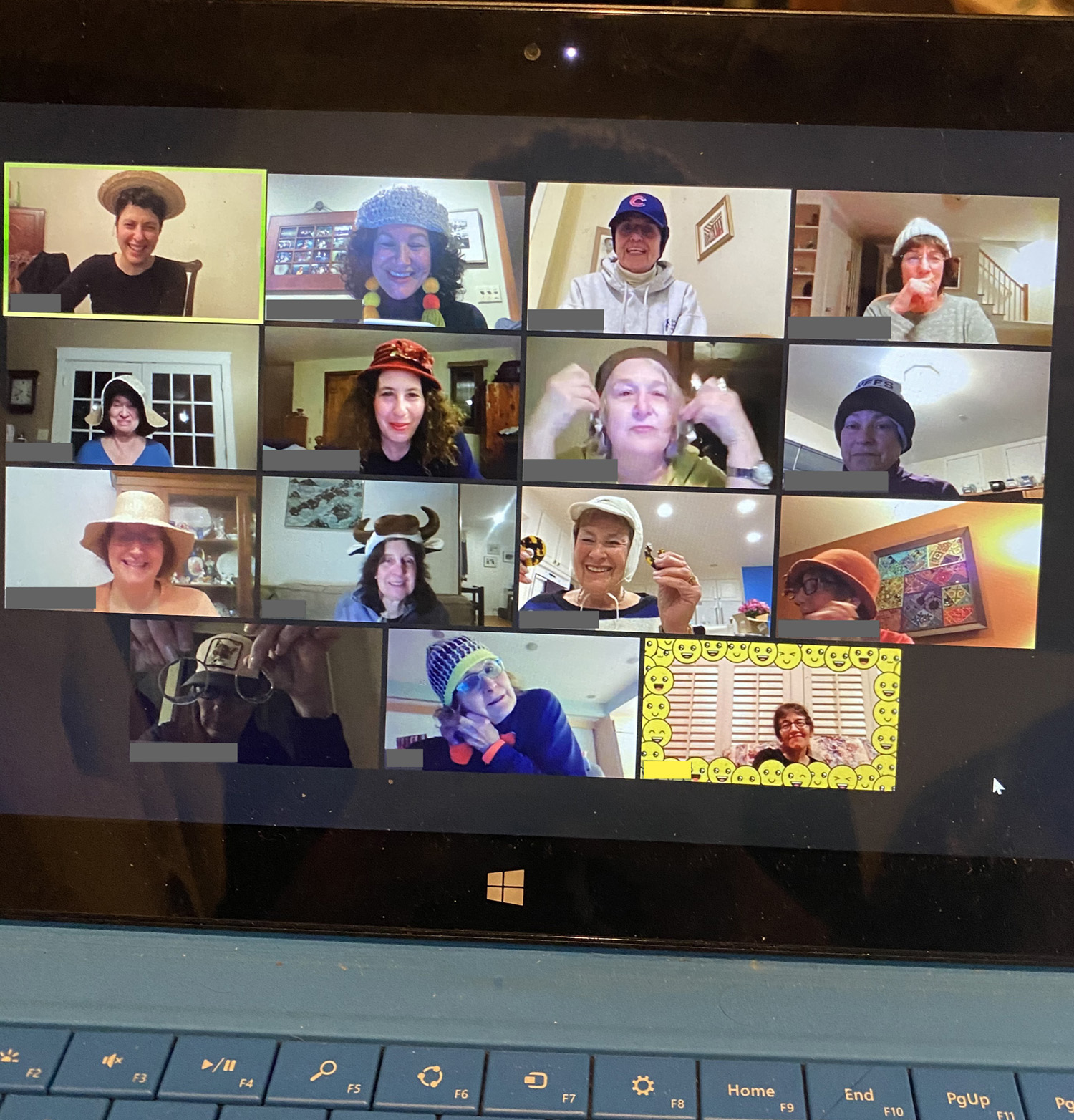 Sisterhood Scavenger Hunt –On Thursday, March 18, at 7 PM we had a scavenger hunt on Zoom. From the comfort of our homes, we were challenged to find items and bring them back to our computers for all to see. Prizes were awarded and fun was had by all! 
Challah Class – Thanks to thank Merrill Mazzella for organizing and demonstrating how to bake a beautiful round challah (actually she showed us how to bake 4 different styles!).  If you missed it, you can watch it on the TE "YouTube" channel. The link is under Recent Programs on the Temple Emanu-El Homepage. 
Trivia Nights – We have had two trivia nights so far! Aside from exercising our brains, the format of breakout rooms lends itself to fun social interaction. These evenings are a lot of fun, so keep an eye out for future Trivia Nights!
Our Kick-off event, the Bean-to-Bar Chocolate Tasting, was popular with 65 participants enjoying delicious craft chocolates together via Zoom. Thank you to Merrill for organizing our fabulous event, hosted by Estelle Tracy, a chocolate sommelier!! It was a wonderful, delicious, fun evening!!
On Tuesday, September 22, 2020 we met for a "Sisterhood Virtual Happy Hour & Membership Drive" on Zoom. It was great to have a chance to say hi to old friends and meet some new ones.
Safe Futures – Thank you to all who participated in, and donated to, the Safe Futures Annual 4K Safe Walk which this year was done virtually by participants.  A small group of Sisterhood friends got together to walk the Niantic Boardwalk and even more walked on other days in different places.  All totaled, on our Sisterhood sign up page, we raised $366 for Safe Futures!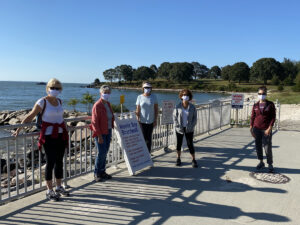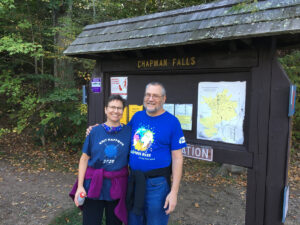 Sisterhood Activities
Operating the Judaica Shop
Membership Kick-off and Year End Dinners
Apples and Honey for Rosh Hashanah after the Children's Service
Sending Chanukiot to all college students whose families are members of the Temple
Providing Oneg for Rosh Hashanah
Sponsoring dessert for one night of the Jewish Film festival
A dedicated Friday night Sisterhood Service
Mah Jongg Tournaments
Movie Nights
Sisterhood Dinner Club
Other Past Activities
Family hikes
Yoga classes
Zumba classes
Afternoon Tea
Trivia night
Book Club
Related Pages:
Get Involved
Brotherhood
Social Action News