The Sisterhood is an auxiliary group interested in sharing their talents and energy, while connecting with other women in the Temple Emanu-El community through intellectual, spiritual and social activities.

Upcoming Sisterhood Events
Dear Sisterhood friends,
As you read our article each month, you can see how busy our Sisterhood has been with fun events for ourselves and community events (Friendly Visitor Program) for our greater community.
We are coming down the homestretch of this year with three scheduled programs in May, so scroll down for more information and join us.
Looking back, the year has had its challenges, but the Sisterhood board worked hard and tried to stay creative while looking out for everyone's well-being. It has been fun working together and seeing all of you, on Zoom or in person. 
See you at our May events!
Barbara Senges and Gail Weber – Co-Presidents

Weekly Walking Group
Our walking group continues to grow.  We meet at Hole in the Wall parking lot in Niantic on Wednesday and Thursday mornings at 10:00am. This is the perfect time of year for these walks – get your steps in and chat with the other ladies.

Sisterhood Shabbat Service
Please mark your calendars and either participate or attend our Sisterhood Shabbat Service on Friday, May 13th.  Normally our service coincides with Mother's Day weekend, but there was a conflict with our special first Friday services, Share Shabbat. So, we are having our service the following weekend. Eileen Shapiro spends a tremendous amount of time compiling meaningful readings and prayers and this service is always well-attended and touching. If you would like to participate, please email Eileen at esfinallyhasemail@comcast.net
Book Club
There is a special Sisterhood Regional Book Club, on Zoom only, on Wed, May 18th at 7:00pm.  Book clubs from around the area have been invited and are excited to hear the author Victoria Riskin speak about her book (Fay Wray and Robert Riskin: A Hollywood Memoir). For those of you who are not familiar with this Hollywood couple, Fay Wray was in the movie King Kong in 1933. Whether you read the book or not, this promises to be a fascinating evening with the author being interviewed by Cecile Feldman and Sheila Horvitz.  Contact Barbara Senges for the Zoom link at Professeur38@me.com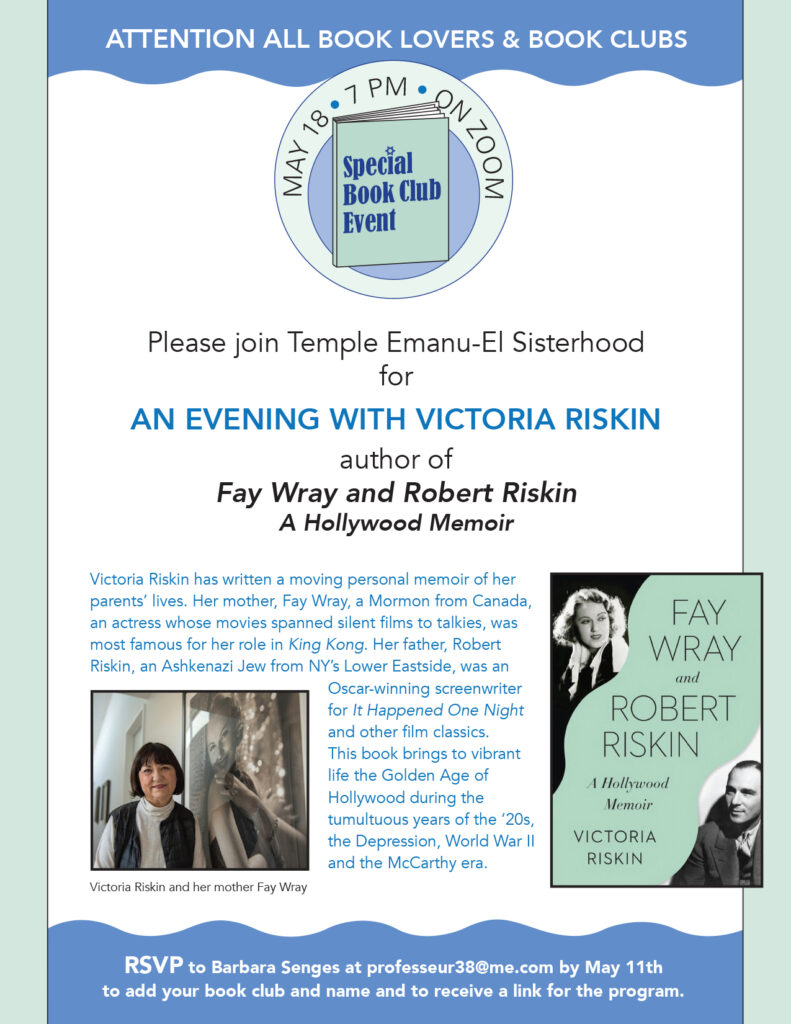 End-of-the-Year Sisterhood Dinner
To wrap up our year, Kim Fischburg is graciously opening her home for our End-of-the-Year Sisterhood Dinner on May 19th.  What a wonderful way to catch up with your Sisterhood friends in person, enjoy a delicious dinner and hear from our WRJ Regional Vice-President. Save the date and watch for a flyer with more details!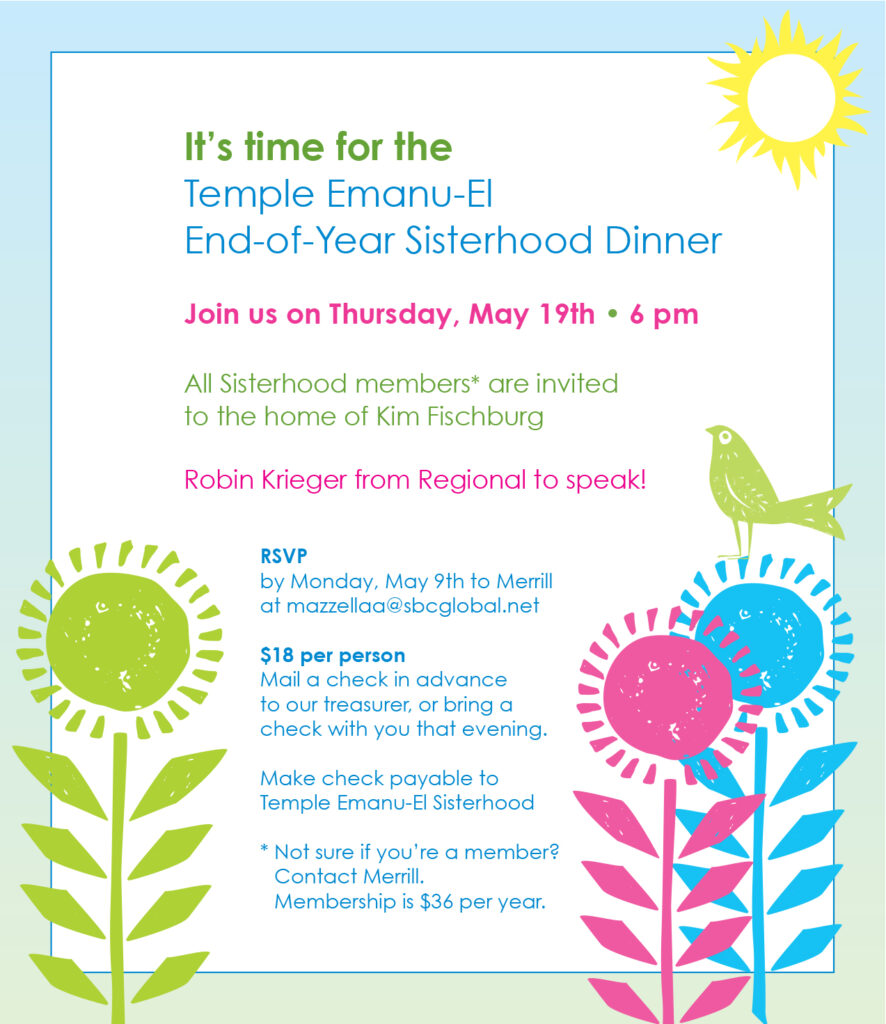 We had fun doing Herb Planters at Smith's Acres!
We closed out our March activities with an outdoor event in the Greenhouse at Smith's Acres where we made Spring Herb Planters. Sisterhood provided Pizza and Drinks at the event.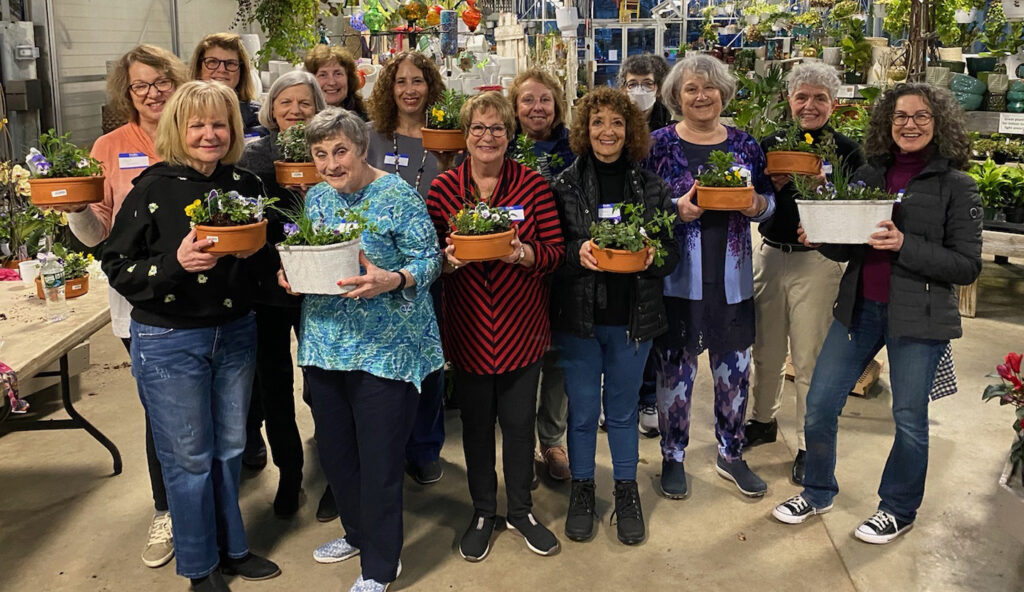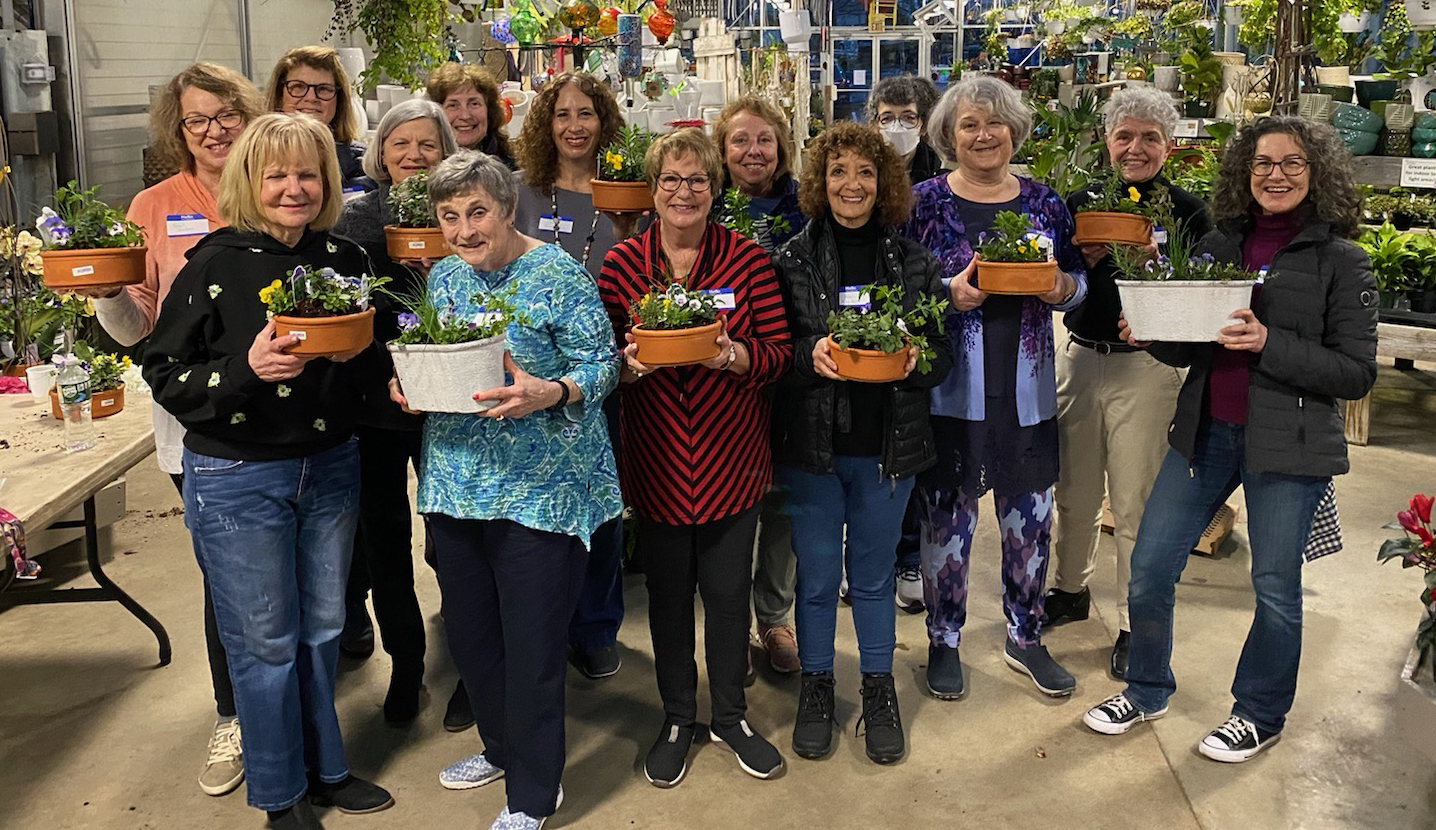 Friendly Visitor Program Passover Bags
Eileen Shapiro is the coordinator of the Friendly Visitor Program for JFEC. Sisterhood, along with JFEC, distributed Chanukah bags & Purim bags to residents in our community who are in nursing homes and independent living facilities. Eileen has expanded the JFEC Friendly Visitor Program to include other local synagogues. Sisterhood members again assembled and helped deliver bags for Passover to Jewish residents at care facilities and independent facilities. This is a mitzvah project which is appreciated by so many people. Thanks to all who helped!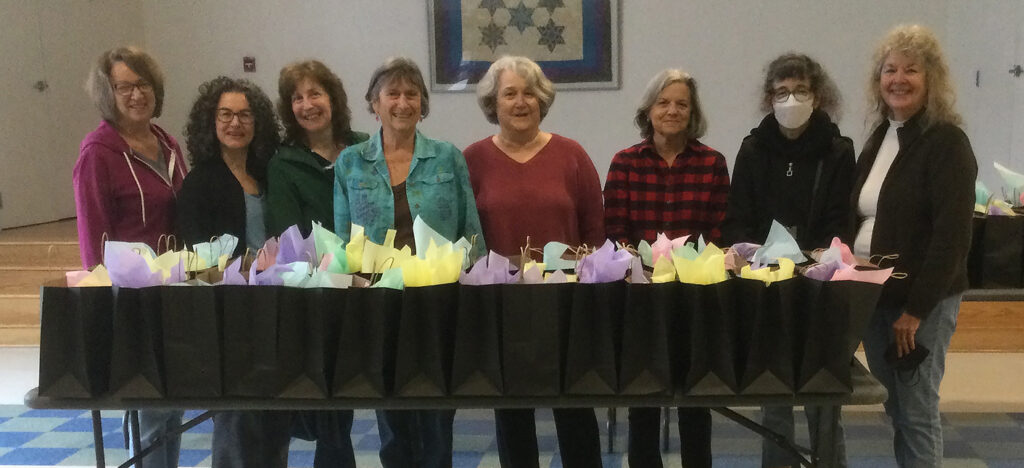 Mah Jongg Tournament and Mahjong Cards 
Check back for future dates when we can resume these great tournaments. A big thank you to all of you who ordered 2022 MahJongg cards, and hat's off to those of you who collected orders from your groups of friends and those outside the Temple Emanu-El family. Our outside sales continue to fuel this fundraiser. You should receive your cards in the mail in late March. After months of "on again, off again" in person games, if you are like me, you are anxious to really USE them this year! 
Thanks for your support!
Iris Freeman
Do you have any ideas for a Sisterhood program? Maybe you have a skill you would like to share. We are always looking for suggestions! Some other programs we discussed were a drawing class on Zoom, as well as a program in person at Smith Acres in Niantic in the spring. If you have any suggestions or special talents, please let us know.  It's always fun to try something new.


Our yearly Membership Drive is ongoing and we hope to surpass our membership of last year of over hundred members. It is never too late to send in your dues of $36.00 to Caren Linden or to give it directly to us at an upcoming Sisterhood event.
Sisterhood is open to all women of Temple Emanu-El as well as all Jewish women in southeastern Connecticut.  Feel free to invite your friends.  We are always looking for new members.  

Temple Emanu-El Gift Shop
Please check out the Gift Shop website to see our selection of items. There is a link right on the Temple Homepage or you can just click below. Or, email me at judaicashop@tewaterford.org to set up a time to meet in the Gift Shop. Please don't hesitate to contact me for an appointment.
 CLICK HERE TO VISIT OUR ONLINE JUDAICA SHOP! 
Please contact Susan Hausmann at judaicashop@tewaterford.org. to arrange pick up of all orders.
It is time for someone to take the reins for the Gift Shop. On June 30th, my tenure in the gift shop is coming to an end. During this time, I have been enriched by the contacts and friendships I have made. I have met so many members of the Jewish community that I may have never met before. It really is very little work and what you get is so much more than what you put in. There could be a small group of 2-3 ladies who would enjoy working together. Please consider helping to run the gift shop.
Thank you,
Susan Hausmann
The Sisterhood would like to say thank you to Susan Hausmann for running the Gift Shop for many years! 


WRJ Programs
Last year, we mentioned all of the on-line programming available through our umbrella organization, WRJ. If you check their website, wrj.org, you will see their calendar filled with speakers, tours, etc.  Hope you can take advantage of some of their programs.

Your Sisterhood Board – 2021-2022
Co-Presidents                      Gail Weber & Barbara Senges
Membership                        Barbara Senges
Programming                      Merrill Mazzella
Treasurer                              Caren Linden
Book Club                             Cecile Feldman
Gift Shop                               Susan Hausmann
Secretary                               Eileen Shapiro
Corresponding Secretary   Gail Schor
Religious School Liaison   Barbara Senges
Publicity                                Sue Fornara


FUN RECENT ACTIVITIES
Cooking Class
We had a hybrid event with our own Cecile Feldman, Merrill Mazzella, and Flossie Betten, who showed us how to bake/make the best sweet potato pie and potato latkes and pie! Yum and thank you!!
Check it out on our YouTube channel: https://www.youtube.com/watch?v=jP2PmKh-O4I
We had a Joint Program with Hadassah in March, and speakers from Safe Futures spoke to us about the important work being done in our community and Camp Hope.  
4K Safe Walk 2021 to support Safe Futures
Thank you to all who joined the Temple Emanu-El Sisterhood Team for this walk on Sunday, Oct. 17th at 9:00am at Waterford High School!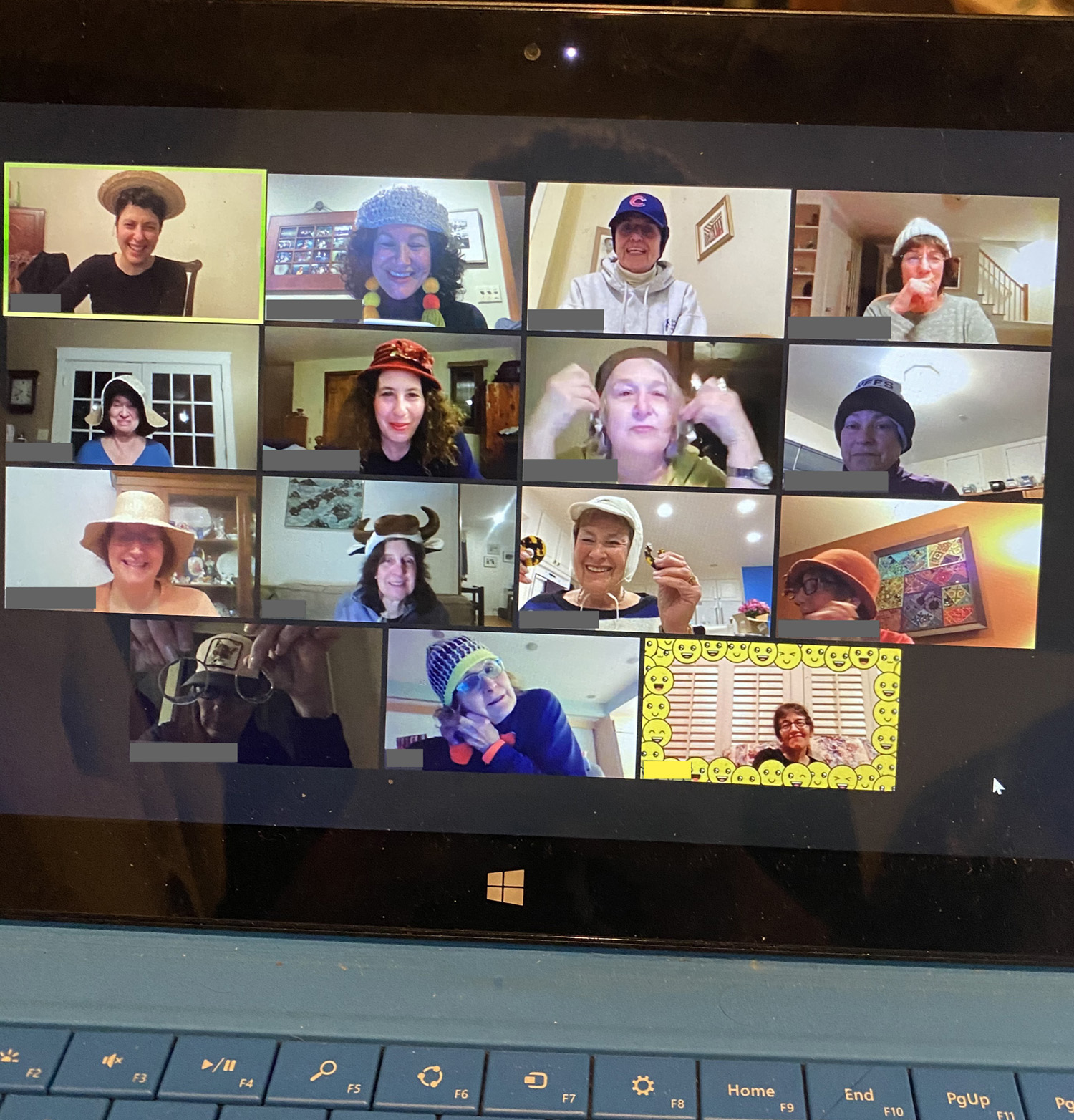 Trivia Nights – We had another great trivia night recently after two others that were so much fun! Aside from exercising our brains, the format of breakout rooms lends itself to fun social interaction. These evenings are a lot of fun, so keep an eye out for future Trivia Nights! Thanks to Barbara Senges for coming up with great questions!
Sisterhood Scavenger Hunt –Since this event in March of 2021 was so much fun, we did another Scavenger Hunt on Zoom on January 25, 2022. From the comfort of our homes, we were challenged to find items and bring them back to our computers for all to see. (Photo from March Zoom event) 
Challah Class – Thanks to thank Merrill Mazzella for organizing and demonstrating how to bake a beautiful round challah (actually she showed us how to bake 4 different styles!).  If you missed it, you can watch it on the TE "YouTube" channel. The link is under Recent Programs on the Temple Emanu-El Homepage. 
Our Kick-off Membership event was a really fun Trivia Event! Everyone loved playing this on Zoom over the past year so Barbara Senges, our co-president and Membership chair, put together really great questions! We did a hybrid model for this event on Sunday, September 19 with many women joining us outside at McCook Point Park, and others joining us on Zoom. Everyone had a great time!
The Sisterhood led the Shabbat Service on Friday, August 20th. Thank you to Eileen Shapiro and Barbara Senges for creating a special summer service for us participate in and enjoy.
For our End-of-the-Year Social at McCook's Point Park, more then 20 women got together!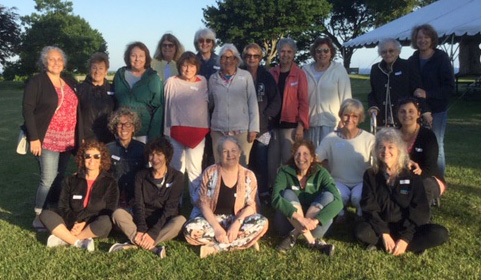 Our Kick-off event in 2020, the Bean-to-Bar Chocolate Tasting, was popular with 65 participants enjoying delicious craft chocolates together via Zoom. Thank you to Merrill for organizing our fabulous event, hosted by Estelle Tracy, a chocolate sommelier!! It was a wonderful, delicious, fun evening!!
On Tuesday, September 22, 2020 we met for a "Sisterhood Virtual Happy Hour & Membership Drive" on Zoom. It was great to have a chance to say hi to old friends and meet some new ones.
Mazel Tov, Cécile!!! The Sisterhood would like to congratulate our fellow Sisterhood board member, Cecile Feldman, on being awarded the temple honor of the Howard Ilson Award for being an outstanding member of the congregation, and giving years of service to the temple.  
Safe Futures – Thank you to all who participated in, and donated to, the Safe Futures 2020 Annual 4K Safe Walk which this year was done virtually by participants.  A small group of Sisterhood friends got together to walk the Niantic Boardwalk and even more walked on other days in different places.  All totaled, on our Sisterhood sign up page, we raised $366 for Safe Futures!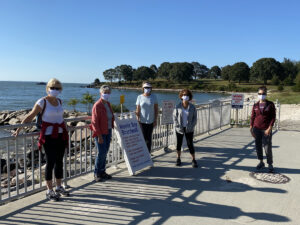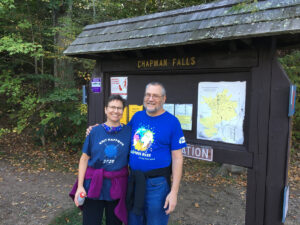 Sisterhood Activities
Operating the Judaica Shop
Membership Kick-off and Year End Dinners
Apples and Honey for Rosh Hashanah after the Children's Service
Sending Chanukiot to all college students whose families are members of the Temple
Providing Oneg for Rosh Hashanah
Sponsoring dessert for one night of the Jewish Film festival
A dedicated Friday night Sisterhood Service
Mah Jongg Tournaments
Movie Nights
Sisterhood Dinner Club
Other Past Activities
Family hikes
Yoga classes
Zumba classes
Afternoon Tea
Trivia night
Book Club
Related Pages:
Get Involved
Brotherhood
Social Action News