The Sisterhood is an auxiliary group interested in sharing their talents and energy, while connecting with other women in the Temple Emanu-El community through intellectual, spiritual and social activities.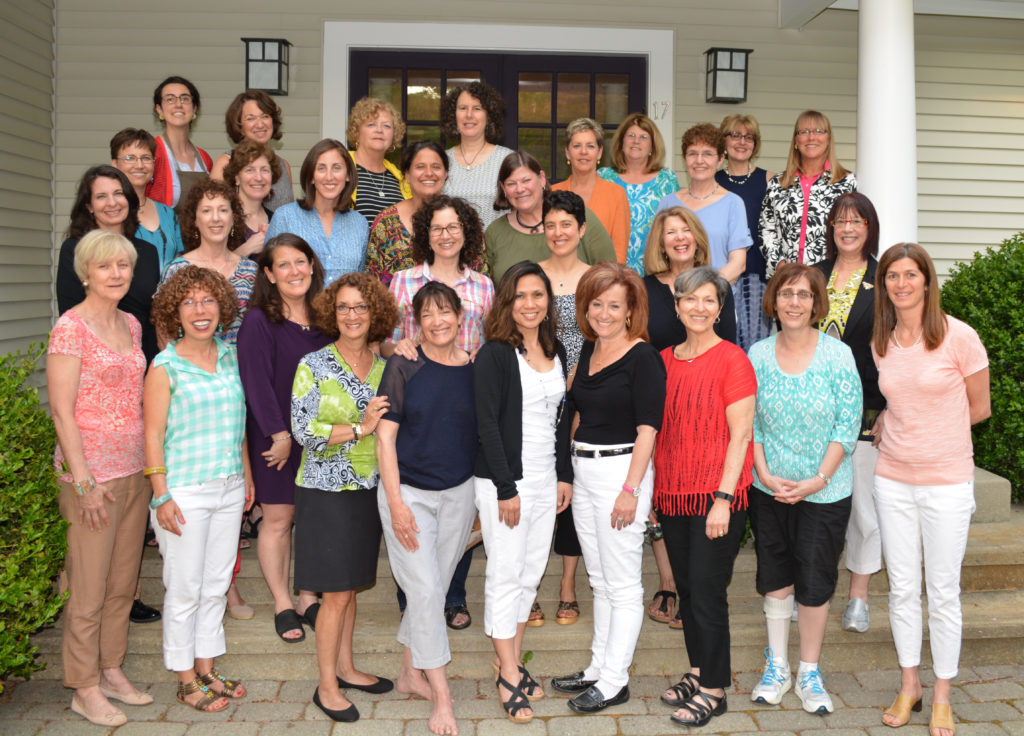 Upcoming Sisterhood Events

Dinner Club will meet every other month this year.  On Tuesday, Nov. 19th at 6:00 p.m. we will be meeting at Olio Restaurant & Bar (33 Kings Highway) in Groton.  Olio serves wonderful food and features "New American fare in a high-energy, contemporary setting where candles line the entrance." If we have enough women RSVP that they'll be joining us for dinner, we'll be seated in the private room at Olio's, so please RSVP early as we need to let them know our numbers a week in advance. *Please RSVP to Merrill at mazzellaa@sbcglobal.net by Tuesday, 11/12 at noon.

Our next Book Club meeting is December 4th. Future book club dates are March 4, 2020 and May 6, 2020 which will include dinner. A list of books will be in the next bulletin. 
Stay tuned for our next Movie Night. 
Sisterhood will be sponsoring the oneg on the second Friday of each month. Whenever you can help, we really appreciate it. Merrill will be sending out reminders. 
 Mah Jongg Tournament – Monday, November 4.
Don't miss… The Excitement! The Food! The Prizes! The Laughs! The Camaraderie!
9:00 to 4:30, starting with Continental Breakfast at 8:30 A.M. See the registration flyer for all the details. Registration and payment deadline is October 31 or when we reach capacity (non-refundable).
We will again have our Relaxed Tables for those who are newer to the game, can't stay all day, or don't want to play at the tournament pace of 15 minute/game.
Help Sisterhood with our biggest fundraiser of the year. There are several ways you can support our November 4 Mah Jongg Tournament, and you can do more than one. We are most successful if it's a team effort. You'll feel good and have fun.
Make a donation to help offset the cost of food.
Play!
Volunteer for food prep Sunday morning, November 3 or set-up later that afternoon
Volunteer to serve on Monday, November 4, around lunch-time!
Contact Iris Freeman with any questions  or to help at ifreegang@aol.com or 860.460.3081. 
Temple Emanu-El Judaica Shop 

The Temple Emanu-El Gift Shop now has regular hours during religious school.
I would like to introduce the gift shop to anyone who is not familiar with what we do. The gift shop is run by Temple Emanu-El Sisterhood, and contributes to the temple in many ways. Some examples are donating to the general fund, gifts for confirmation students, and funding the Rosh Hashanah Oneg and Yom Kippur Break-the-Fast. The gift shop also helps to support religious school holiday celebrations and donates to the kitchen fund. The gift shop in particular donates (along with the Brotherhood) the candlesticks and kiddish cups for our Bar and Bat Mitzvah students. We give our college students electric menorahs to use in their dorms, and also provide dreidels and gelt to our religious school students. The money you spend at the gift shop truly stays within our community. 
We also have a tremendous variety of tallit and we can help order kippot for your important events. If anyone would like to offer assistance it would be greatly appreciated. This is not very time consuming. It could be helping with merchandise placement, purchasing or something else you think you could offer.
As of now, the gift shop only accepts cash or check. Please consider donating handled paper bags or reusable bags. Plastic bags will no longer be provided. The gift shop is open on Sunday mornings 9:30-12. Special arrangements can be made by contacting judaicashop@tewaterford.org or 860-625.6618.
We had a wonderful Sisterhood Year End Dinner Party on Thursday, June 27th. Thank you to Caren Linden for hosting.
Sisterhood Activities
Operating the Judaica Shop
Membership Kick-off and Year End Dinners
Apples and Honey for Rosh Hashanah after the Children's Service
Sending Chanukiot to all college students whose families are members of the Temple
Providing Oneg for Rosh Hashanah
Sponsoring dessert for one night of the Jewish Film festival
A dedicated Friday night Sisterhood Service
Mah Jongg Tournaments
Movie Nights
Sisterhood Dinner Club
Other Past Activities
Family hikes
Yoga classes
Zumba classes
Afternoon Tea
Trivia night
Book Club
Related Pages:
Get Involved
Brotherhood
Social Action News